Talking Comedy Craft with Sam Suksiri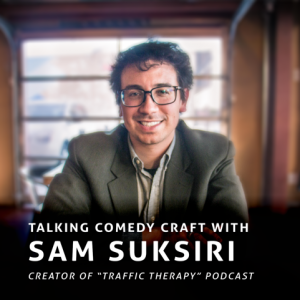 Sam Suksiri is the creator of the hilarious "Traffic Therapy" sketch podcast
I want a guy like Sam Suksiri to write my jokes.
When I meet Suksiri, he's sitting at a table in a smart, gray blazer, sipping a cold brew coffee. In an artist's way, his hair's not exactly combed. He's sociable, and we soon get to talking. He studied television writing in grad school. That was until a professor pulled him aside and said something along the lines of, "It seems like you're here to write comedy. This is a TV screenwriting program, and you might end up a little disappointed."
So Suksiri left and trained instead at the Los Angeles Upright Citizens' Brigade, one of the nation's premiere improv and sketch comedy theaters. These are just a few examples of what I like about Suksiri – he balances his intelligence, quirk, passion, and kindness with a deep love of craft.
The same goes for his comedy podcast, Traffic Therapy. I listen to a few episodes before our meeting and I give Suksiri a sincere compliment.
"I laughed," I say. "That doesn't happen with a lot of shows."
Not only did I laugh, but I laugh in different ways. I chuckle at the wordplay in "Town of Toms" set in Town-of-Toms-who-also-all-believe-in-time-travel-Upon-Upton. I smile through gritted teeth at the biting, close-to-home satire of "Artists Workshop." At times kooky, always smart, the podcast is just long enough to fill a trip to the grocery store. So if you're not too busy texting or taking selfies on your next morning commute, give Traffic Therapy a listen.
But I'm also interested in how Suksiri pulls off Traffic Therapy in a city like Colorado Springs, which isn't renown for its voice acting or recording studios. If you're looking to start a podcast, take notes! Suksiri is the real deal.
He tells me he nailed down Traffic Therapy's basic format after hearing a BBC radio show called Souvenir Program written by sketch writer, John Finnemore.
Suksiri recalls, "And when I heard that show it was like, 'Oh, this can be done.' Because before that I still had different format things in mind… and I wasn't happy with them and I heard his show and I was just like, 'It works!' So that was so encouraging. And after that I was like, "Ok, there's a model for it."
And while Suksiri found his model in Souvenir Program, he took his comedy structure from his Upright Citizen's Brigade training.
"Especially on the writers," Suksiri says, "you have to really stick to this formula and you have to be really original with the formula." He explains that every sketch should have a "game." "If [the audience is] listening to funny people talking and weird characters – if they haven't figured out there's a game going on, there's this pattern building – they'll get bored even if it's been a minute." The pattern helps build the sketch's energy, and the scene ideally ends when the energy is at its highest.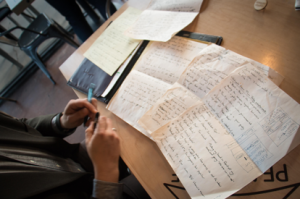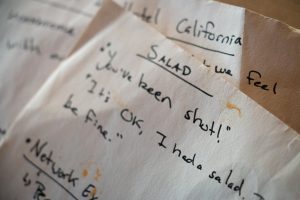 But where does the originality come from? Details.
"So this is one I was working on, there's that scene in Les Mis where the students are all gathering for the first time and they're like, 'We're gonna revolt in red, that's gonna be our color.' So I had this idea of 'why's it gotta be red?' What if one of the students is like, "Why's this gotta be red?" You just make lists out of the details because specificity was a big thing they drilled. The more specific your details and your sketches are, the better writing that is."
Near the end of the interview, I ask how a young writer might launch their own professional podcast. Surprisingly,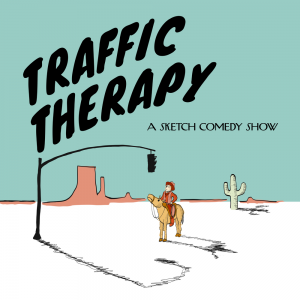 Suksiri mentions a Colorado Springs public library, which houses a state of the art recording studio.
"It's not just a voice booth, it's a recording studio for an ensemble, which was exactly what we were doing… So much of this equipment is expensive, difficult to use, and you don't need it 24/7. You only need it for a while and someone else can use it… We're on the tail end of a tremendous amount of investment from some very generous people in the community."
Moral of the story, if you're looking to get into comedy podcasting, support your local library! Plus, check out Traffic Therapy either on https://www.traffictherapypodcast.com or your favorite podcast platform. You'll learn a lot. At the very least, you'll laugh!
Episode 7 drops Sunday, May 6th!
TJ Neathery spent his childhood in Albania, adolescence in Texas, but now lives and writes in Colorado Springs, CO. He describes himself first and foremost as a Christian who is a writer. He received his MFA in fiction from Oregon State and enjoys writing short stories and novels. Recently, he completed his first novel manuscript, Gracie Got Us Down to Texas, about an alt. rock band trying to break onto the Austin, TX music scene. He has also published stories in various lit mags. One of his great passions is music. Since high school he's collected over 350 CDs and he enjoys playing his vinyl collection on a hot pink Victrola. With all these artistic interests, it just makes sense that he connects with local artists through the Artist of the Week feature.