Folk Music, Friends & DIY Punk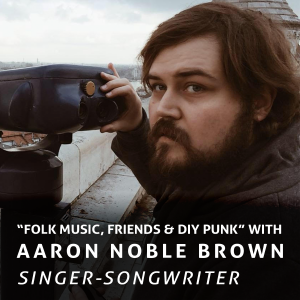 Aaron Noble Brown is a singer-songwriter based in Colorado Springs.
"Everybody is somebody," Aaron Brown says. I pause. By this point we're halfway through the interview, and I'm pleased to realize I've just found my hook. I've just been shown the "heart" of the interview, the fundamental nugget of truth that ties the conversation together.
But let's rewind a bit. The interview begins with a question about being a musician in Colorado Springs.
Brown says it's hard to be a complete individualist in Colorado Springs. "You as one person can do so much," Brown says, "but it's like you kind of have to come alongside other people in terms of creating… I just think it's hard to say that 'I do this that creates this culture.' I think it's more like I see these things and these people and I participate… All of my friends who are musicians – it's all really DIY style of music."
For the layperson, DIY stands for Do It Yourself. In the music world, DIY usually entails local bands, punk mostly, playing warehouses or house shows. From the outside, DIY shows might seem fringe and maybe even dangerous. But if you've been to one, you'll know that the DIY scene is often very accepting and supportive.
Brown reminisces for a bit. Recently, a local Colorado Springs DIY staple, the Flux Capacitor, closed down. "Every city needs a DIY scene," Brown says. "They now just primarily do shows through the Triple Nickel… It's just a little bar and they do a lot of DIY punk shows… Smaller bands starting out, it's a lot easier to get in a show there. And it had this scene that was built around this DIY spot that Bryan and Sean Ostrow and all of their crew – Flux people – I think they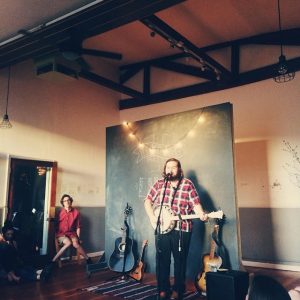 had gone for two years and they had run like 300 shows a year. So in that time they had done over 600 shows in a short amount of time. So they got to the point to where so many bands – like smaller bands, DIY bands – all over the country who were like, "Oh yeah" and it created a scene. And the thing is that if you're going to create some kind of artistic platform you just need to be that open."
Of course, Brown doesn't just go to shows. He plays them. He recently returned from touring with a band in Canada. And touring isn't easy, he says. But then he adds, "The thing is, music communities everywhere are really friendly people and everybody's pretty similar and everyone's going through the same things. You'll meet a lot of really kind, cool people all over who care. And that's what matters and that's what keeps it cool."
And according to Brown, the local Springs music scene has improved over the past decade. "I've booked house shows and different things like that for a while and it's gotten a lot easier. Now it's probably like 30 or 40 people at an event… And that's why communities like the Flux were so great because they would have thirty to forty people at every show no matter what. There was just a group of people who were like, 'We're going to go to the Flux every night.' And it became their community and that's such a cool thing to create something like that for this city."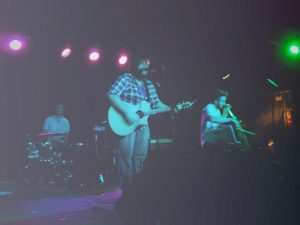 Brown and I talk more about the difficulties of making it as an artist: the finances, cutting a record, building a following. And then Brown makes a great point. "As an artist you have to realize that everyone you interact with – until you 'make it' – that everyone who you interact with is your friend. And even when you make it, that someone who is putting interest into you and what you create, I would consider that person a friend if they're caring about things that you've created… That's why I don't like the word 'fans' because it separates me from my art and the people who experience that."
Then he says it. "Everybody is somebody."
And for a musician who describes himself as a singer-songwriter with folk influences, I think Brown is doing his music right. At a certain level, folk music is about people and community. I think Woody Guthrie would agree. Someday I'll ask him.
We've got links! 
Listen to Aaron's music on his Bandcamp profile: https://aaronnoblebrown.bandcamp.com/album/an-inch-a-mile  
And we've got a video link for you as well. Watch Aaron Brown's amazing Tiny Desk entry, "We Don't Dance" https://www.youtube.com/watch?v=n1_vNhD34fA
TJ Neathery spent his childhood in Albania, adolescence in Texas, but now lives and writes in Colorado Springs, CO. He describes himself first and foremost as a Christian who is a writer. He received his MFA in fiction from Oregon State and enjoys writing short stories and novels. Recently, he completed his first novel manuscript, Gracie Got Us Down to Texas, about an alt. rock band trying to break onto the Austin, TX music scene. He has also published stories in various lit mags. One of his great passions is music. Since high school he's collected over 350 CDs and he enjoys playing his vinyl collection on a hot pink Victrola. With all these artistic interests, it just makes sense that he connects with local artists through the Artist of the Week feature.