"Humanizing Communications" with Matt Mead, Visual Storyteller and Filmmaker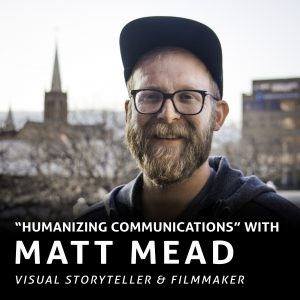 Matt Mead is a visual storyteller and filmmaker in Colorado Springs
What are the similarities between the LA film industry and a small, Christian college tucked away in rural Pennsylvania?
"Very little," you might say.
But Matt Mead has experienced both settings. And now he lives in Colorado Springs, which is home to a melting pot of cultural perspectives. The city supports a large military presence. It's known for its conservative, evangelical population. And as a city in Colorado, it also hosts a large, liberal contingent. Because Colorado Springs is growing in terms of both population and diversity, Mead believes that it's more important than ever to engage these differences and create space where people can have honest conversations.
First, I ask Mead about his job. He works for a video marketing company that has seen extraordinary growth over the past five years. They've tripled in size and have nearly outgrown their downtown office space. Mead's role as visual storyteller has helped uniquely position the company in a very competitive industry.
"I think a lot of companies are seeing the value of story and seeing that the most effective way to communicate with people is through story. Because it's authentic and we just learn through stories. That's how we learn about ourselves, about each other, about culture, and so I think businesses are realizing that we really want to communicate well and communicate humanly. There's a big movement in marketing toward humanizing the business and what does that look like?"
Humanizing. It's a word Mead repeats throughout our conversation. And rightly so. In my everyday life, I often feel less like a person and more like an open wallet or a drop in the vast ocean that is big data.
"What does it mean to be human? What are your real desires as a human? What do you really long for?" These are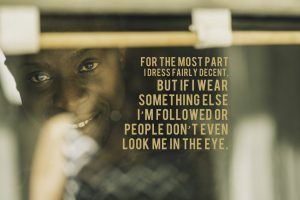 questions Mead asks not only in business but in his art as well. As a filmmaker, he's been working on a project called Stranger Moments.
According to Mead, "It's birthed out of seeing the polarities of a city like Colorado Springs that historically is very conservative but Colorado is not conservative at all. There's a lot of polarities in political beliefs, religious beliefs, lifestyle. We have this huge range of perspectives here, which in one way is really compelling but also can create a lot of division in a city."
The idea itself is simple, curate a conversation between two entirely different backgrounds. Two people with different ethnic, political, religious, and social views sit down in a studio and talk. Cameras roll in the background. These people aren't enemies or antagonists, just different from one another.
Mead explains, "We were really intentional about creating space that emphasized our shared humanity more than our political beliefs. I think that if we can create spaces that welcome those kinds of conversations and create a context that's not trying to create conflict and antagonism… We enter into these conversations with a posture like, 'I'm a liberal Christian and I'm always going to fall into that camp and anyone outside of that is going to be an antagonistic relationships.' Coming from LA there were a lot of great liberal faith communities and evangelical in CO Springs. I try to stay open to both ends of the spectrum because I think that's a healthy posture to have… That's my desire for art in general is that it brings us together… and exposes our shared humanity."
Like any city, Colorado Springs faces its own unique challenges. And it's encouraging to know that storytellers like Matt Mead are actively shaping the city's arts and business culture.
Finally, returning to the topic of visual corporate storytelling, Mead says, "So a lot of the questions we're asking are, 'What does it look like to humanize your business? Or create a culture or create a company culture that is humanizing, that humanizes your employees and your communications… Because that's the only way you're going to connect with people now. Because we are a polarized nation, a very diverse nation… So if we're not focusing on something more human and more fundamental then it's not going to work."
To view a few clips from Stranger Moments head to https://www.facebook.com/TheStrangerMoments/
To learn more about Matt Mead, check out his website at https://www.mattmeadmedia.com
TJ Neathery spent his childhood in Albania, adolescence in Texas, but now lives and writes in Colorado Springs, CO. He describes himself first and foremost as a Christian who is a writer. He received his MFA in fiction from Oregon State and enjoys writing short stories and novels. Recently, he completed his first novel manuscript, Gracie Got Us Down to Texas, about an alt. rock band trying to break onto the Austin, TX music scene. He has also published stories in various lit mags. One of his great passions is music. Since high school he's collected over 350 CDs and he enjoys playing his vinyl collection on a hot pink Victrola. With all these artistic interests, it just makes sense that he connects with local artists through the Artist of the Week feature.