Artist of the Week: Will Patrick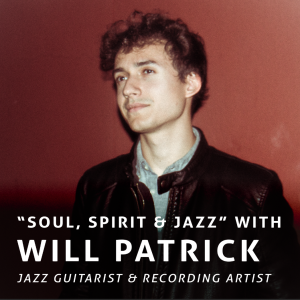 Will Patrick is a jazz guitarist and recording artist living in Colorado Springs.
I first hear Will Patrick play guitar at The Perk Downtown. The longer I watch, the more I think to myself, "He reminds me of Bob Dylan." After the show, I introduce myself. Then I head home. And yet, in a haunting way, I can't shake the thought of Dylan.
The Dylan touch doesn't come from Patrick's looks, though the resemblance is obviously there. Nor is it exactly in his cool demeanor. It's just that here's this musician from Orlando, FL playing jazz guitar in Colorado; he's just old enough to drink; and he's playing shows with some of the premier jazz musicians in the nation.
Two weeks later we meet back at The Perk for the interview. He orders a dark stout highly recommended by the barista. When I mention all this about Bob Dylan, he responds humbly: "I'm a huge fan. He's a huge inspiration. He's an artist. Thanks, that's an honor."
Will Patrick has been playing music his entire life. When he was four, his dad took him to a neighborhood CD store in Florida and played him Jimi Hendrix's record, "Band of Gypsies."
"And as soon as I heard it," Patrick says, "I was like, wow. Ok. It was like a spirit came over me and I really got very intense goose bumps listening to him play the guitar and sing, sing about what he was going through and what was on his mind about social injustice and the war. Of course I wasn't super aware of it but I could feel it in the music."
Connection. Social justice. Spirituality. These themes have been constants in both Patrick's life and his approach music.
For example, when I ask him why it's important to hear jazz live, he says, "When you go see a certain jazz musician live there's an aura that carries over into the room. You feel it. You feel the history and the passion of the music. As an audience member, I think that it's important to see live music because you're kind of keeping that spirit alive."
Patrick is in the middle of a tour himself – from Berk's Jazz Fest in Philadelphia to The Motif right here in Colorado Springs.
"So that's why an audience member should go see a jazz show," I say, "but why do you do it?"
"I just want to make people happy," Patrick says. "I feel like that's not always the objective of an artist but at least for me it's like the music is like a conduit that you get to an audience member to communicate in this really special way that's unlike anything else I've ever experienced."
And if music is communication, Patrick speaks about a dozen languages. Rock. Blues. Folk. Jazz-fusion. Hip-hop. R&B. You'll find flavors of all these genres in his self-titled EP. But Patrick is quick to mention that he's focused on the future. Recording that EP was a great experience, but he's still developing as a musician. In fact he hopes to have a second album out by the end of 2018.
So staying on the topic of development I ask, "How do you want your music to be described at the end of your career, at your death?"
Patrick doesn't have to think long. "Soulful, someone that has soul and someone who's thoughtful. Can maybe shed light on some more topics. I like music that's kind of introspective, music that also touches on spirituality…. I definitely feel spiritual, like there's something – music is connected – and there's some kind of force that's out there that is going on."
And in terms of musical style: "I don't really care what category I get put in but I would just like to be associated with the contemporaries that I admire like Isaiah Sharkey… and there's a lot of great hip-hop and R&B artists in New York like Moonchild and Knower… I would love to be associated with Thundercat, Jacob Collier. No, I think that my sound will just kind of, whether I like it or not, you're going to hear what it'll be soon enough."
It's very clear to me that I'm talking to an artist, someone who understands the delicate balance between control and freedom, influence and originality. Will Patrick could be one of the greats. He's definitely got the heart, the drive, and the talent.
And then to top it all off he adds, "I want to turn people on to something that's groovy."
Check out Will Patrick's music on Spotify or on his website www.willpatrickmusic.com.
Upcoming shows in May:
5/16 Colorado Springs, CO @ The Broadmoor
5/19 Pueblo, CO @ Wine Down by the River
5/23 Colorado Springs, CO Broadmoor
5/25 Colorado Springs, CO Hotel SCP
5/30 Colorado Springs, CO Broadmoor
TJ Neathery spent his childhood in Albania, adolescence in Texas, but now lives and writes in Colorado Springs, CO. He describes himself first and foremost as a Christian who is a writer. He received his MFA in fiction from Oregon State and enjoys writing short stories and novels. Recently, he completed his first novel manuscript, Gracie Got Us Down to Texas, about an alt. rock band trying to break onto the Austin, TX music scene. He has also published stories in various lit mags. One of his great passions is music. Since high school he's collected over 350 CDs and he enjoys playing his vinyl collection on a hot pink Victrola. With all these artistic interests, it just makes sense that he connects with local artists through the Artist of the Week feature.