To Grinch or not to Grinch: December 2018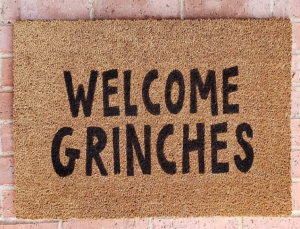 AHHH DECEMBER … "Once you've seen one Christmas parade, you've kind of seen them all" I thought to myself as I replied to a friend's invitation via text.
Fast forward 2018 — Although I still get the occasional "let's go snowboarding" text, I often spend my winters participating in the human representation of hibernation. I don't recall the exact chain of events that led me to this point but, in retrospect, with the exception of my first couple tourist-y years, I can see exactly how this became second nature. Factor 0 familial influences expecting me to be at the next holiday function, and considerations like a major lack of sunlight/bipolar weather patterns, and you have my December. Two words. SUPER LAME! However, since the realization of my Grinch like disposition I have made efforts to explore outside the "cave" more frequently.
EXPECTATION: "I want to be where the Whos are."
The holidays are here this shouldn't be too difficult.
I bet I could get some cool recommendations from people I know.
I'll try social media!
Maybe I can just walk into something Christmas-y downtown!?
REALITY:
I figured beginning in my favorite place, (other people's minds) would be the simpler option. Come to find it was and it wasn't. People were cooperative. though, did I mention this is about the friendliest state I've ever been in? The difficulty was more so in everyone's response, the factor that kept me making conversation with about every single person I knew. But, unfortunately after all that, it was clear, I am not alone.
Instead of Whos I found Colorado Springs sacred underground society of "part-time" Grinches …
Who would have known there were so many others unknowingly (or knowingly) practicing the same sort of human hibernation ritual I was trying to break? It's probably safe to say that even though we aren't sitting around plotting on the neighbors Christmas goodies, not being even remotely interested in society during the Holidays qualifies as Grinch like behavior. Even if it is by default.
Roughly 90% of my peers agreed, Colorado Springs is NOT "where it's at", especially this time of year. So much so, that as a collective we would rather fulfill our societal obligations and then retreat to our cozy apartment homes. The remainders, in on a trip to Denver or (fill in the blank), obviously abandon the idea of a holiday experience at home.
Over the course of time, I have come across 3 people who said they MIGHT attend the more heavily marketed community events, like they have in the past. More than pleased to get this kind feedback, I asked more questions until the warnings of endless traffic, expensive concession, and if not planned correctly, poor seating. May I say EWW, and with this in mind my next stop was the Internet.
 Before anything else let's just take a moment to thank the creator of the search filter.
I searched everywhere, eventually scouring city event sites for a few days till I began to notice a sneaky pattern. It's no wonder this stay inside or leave town phenomena has taken over the Springs! Everything I came across dubbed "Holiday" located in town might only suit someone who is very traditional, rich or maybe new to the city. Note: Heavy marketing and such will really make you to believe all the cool stuff is in Denver. The internet alone was only slightly more helpful than word of mouth. It took the combination of both mentioned above, heavy search filters, and my own selective interests to eventually find what I was looking for.
IN CONCLUSION:
"To Grinch or not to Grinch", has proven to be a ton of research. However, I am grateful to have found some interesting leads this year (as this is an ongoing project). I have included a sample of my list below. Most of these events are held indoors and can be explored with or without a group Enjoy!
DO SOMETHING DIFFERENT
Indoor Shooting Range
Magnum Shooting Center
Open to the public
$25 per person/ Weekly specials available
https://www.magnumshootingcenter.com/
Solve A Mystery
1920's themed Murder Mystery @ Speakeasy
By RedLeg Brewing Company
Dec 8th 5pm-9pm
Ages 21+/$25
Tickets @
https://www.eventbrite.com/e/1920s-speakeasy-murder-mystery-tickets-50498140297?aff=eac2
Stay active
Trampoline World Goat Yoga by Rocky Mountain Goat Yoga
Dec 9th 9am-1pm
All ages/$35
Tickets @ https://www.eventbrite.com/e/trampoline-world-goat-yoga-dec-9th-tickets-52067138212?aff=ebdshpmoodssection
More Info @ https://rockymountaingoatyoga.com/home
Puff, Puff, Sing & Learn …
Smokey Karaoke/ASL CLASS @ Studio A64
Dec 4th 6pm – ?
420 Friendly (BYOB) /Ages 21+
More Info @ http://studioa64.com/
LET SOMEONE ELSE HOST
Drink & Network
Dec 14th 6pm-9pm
First Annual Ugly Sweater Bar Crawl by Aspiring Change Makers of Colorado Springs
Ages 21+/$FREE
Register @ https://www.eventbrite.com/e/ugly-sweater-bar-crawl-tickets-52852737962?aff=eac2
Party like it's 1999!
Dec 31st 8pm-2am
All that 90's Party New Years Eve Bash by The Gold Room
Ages 21+ $65/$115 Couples
Tickets @ https://www.eventbrite.com/e/the-gold-rooms-new-years-2019-all-that-90s-party-tickets-52498959802?aff=eac2
More Info @ http://www.goldroomlive.com/
Food for thought?
Dec 14th 6pm-8pm
Solidarity
Dinner for a Cause by Pikes Peak Justice and Peace Commission
All Ages/$ FREE
Register @ https://www.eventbrite.com/e/solidarity-dinner-tickets-52657017557?aff=ebdssbcitybrowse
More Info @ http://www.ppjpc.org/
KIDS AND FAMILY
Craft Makers Fair w Colorado Springs Therapeutic Riding Center
Make up to 10 Handcrafted Creations
Dec 8th 10am-1pm
Family Event/$25 donation
More info @
coloradosprings.eventful.com/events/craft-makers-fair-colorado-springs-thera-/E0-001-120170474-
Santa's Workshop & Bazaar by Mom Boss Society
Find the Elf, Create & Explore
Dec 15th 9am-5pm
Family Event/$FREE
Register @ https://www.eventbrite.com/e/santas-workshop-bazaar-tickets-49235715350?aff=ebdshpmoodssection
More Info @ http://mombosssociety.com/
Last Bash of the Year Holiday Party by Colorado Springs Housewives in the City
A Charity, Karaoke, Photobooth Celebration
Dec 19th 530pm-830pm
Family Event/$FREE
Register @ https://www.eventbrite.com/e/last-bash-of-the-year-holiday-party-at-the-social-tickets-52924562792?aff=eac2
More Info @ http://www.housewivesinthecity.com/coloradospringxs
Samantha J. Evans better known as Sam, regularly prefers not to limit her identity. She credits her favorite freedom: the ability to create, and the physical realization of many others to staying true to herself along life's journey. Samantha's unwillingness to be contained has also contributed to her exceptionally curious and unconventional resume. This includes experiences like field interviewing in support of research and development projects, photography, and a brief, but very enlightening year at a local gun club. Although the idea of diversity and exploration has been a reoccurring theme in her life, she has made Colorado her permanent place of residence, and has been enjoying the lifestyle ever since. Peering into aspects not initially visible about Samantha, offer a powerful combination of quirks; only to be described as profound complexities, that reinforce her passion for "peopling" and in some cases altruistic behavior. Samantha ultimately aspires to create the form that will bond all her multifaceted inspirations to help the World become more excellent.