Mock Draft – Broncos Look Linebacker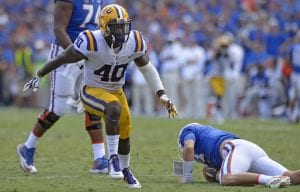 With the NFL Combine in the books, the Denver Broncos and the rest of the league will wait to see what happens in free agency before putting together their draft boards.  It looks as if Joe Flacco will be a Bronco, Case Keenum a Redskin, Nick Foles a Jaguar, and Kyler Murray is rumored to join Kliff Kingsbury as the first pick in Arizona. But I don't see it that way.  Here's my mock draft 1.0.
Oakland Raiders (via trade with Arizona) – Nick Bosa (Edge/Ohio State). The Cardinals were bluffing about their intention of drafting Kyler Murray after trading up to select quarterback Josh Rosen last season, and the Raiders were willing to bite.  But instead of a quarterback, Oakland gets their big name pass rusher to replace Khalil Mack, and Arizona picks up a few more draft picks for their lengthy list of needs.
San Francisco 49ers – Josh Allen (Edge/Kentucky). Kyle Shanahan could give up this spot if another team is looking to trade up for a quarterback, but Allen is the kind of edge rusher that can dominate games.  At 6'5, 260 lbs., Allen finished his senior year with 17 sacks and 5 forced fumbles.
New York Jets – Jawaan Taylor (OT/Florida).  With Murray and Dwayne Haskins still on the board, they'll be taking phone calls, but the Jets can't go wrong with drafting Taylor to protect Sam Darnold for years to come.

Arizona Cardinals (via trade with Oakland) – Quinnen Williams (DL/Alabama).  The draft room goes crazy as the Cardinals skip out on Murray for a second time to draft the best available player for a team with tons of needs.

Oakland Raiders (via trade with Tampa Bay) – Kyler Murray (QB/Oklahoma).  Jon Gruden gives Las Vegas what they want.  A star quarterback of-the-future, and a major draw for the new stadium in 2020.  Derek Carr is still a good quarterback, but his injury issues and large contract make this the right time to make a move.
Miami Dolphins (via trade with New York Giants) – Dwayne Haskins (QB/Ohio State).  The Giants were willing to wait on next year's crop of quarterbacks, and another year of Eli Manning.  Adam Gase and the Dolphins weren't. With teams like Washington, Denver, and Cincinnati still on the board, Miami finally went up to get their franchise quarterback.
Jacksonville Jaguars – Ed Oliver (DT/Houston).  The assumption is that Nick Foles will be under center, so the Jags will be looking instead for the best player that can get to the quarterback.  Oliver is an undersized beast that could be a difference maker.
Detroit Lions – Greedy Williams (CB/LSU).  Pat Patricia is a defensive oriented coach, and Williams is the best cover man in the draft.  There are plenty of options at this spot, but a cornerback with good size and 4.37 speed is always a nice fit.
Buffalo Bills – Jonah Williams (OL/Alabama).  The Bills need help in many areas, but were thrilled when Williams dropped this far down the board.  Last year's rookie quarterback, Josh Allen, was sacked 28 times.
Denver Broncos – Devin White (LB/LSU).  The Broncos double-down on their defense by selecting the top true linebacker in the draft.  Denver passes on quarterback Drew Lock, missed on the top-graded offensive lineman, and decided to deal with the eventual release of Bradley Roby via free agency. Today's NFL needs a linebacker that has the speed to cover running backs and tight ends.  With a 4.42 40-yard dash time at the combine, the Butkus Award winner will fit in perfectly.
Images via theadvocate.com, cbssports.com, sportingnews.com, athlonsports.com, usatoday.com.
Alan Tapley is an educator, author, and blogger who has lived just outside of Boulder for the last twenty years.  His published work includes two novels, two children's books, a series of cartoons in the Minneapolis Star-Tribune, and multiple sports related articles. His love for family and the state of Colorado is only matched by one thing, his passion for sports.  The first baseball game he ever attended was at Wrigley Field, before there were lights.  At the final Bronco game at the old Mile High, he allegedly cut out a piece of his seat in the South stands.  But regardless of being here for the Avalanche's last Stanley Cup, the Rockies only World Series appearance, and all the Broncos' Super Bowl Victories, his wife never fails to remind him that he wasn't at the University of Colorado in 1990, like she was.  The year the Buffs football team won the National Championship