Thou Shenault Doubt the Buffs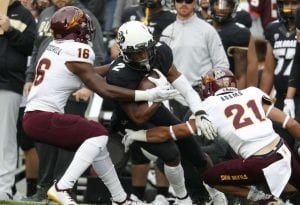 The Colorado Buffaloes (5-0) extended their winning streak to five games with an impressive 28-21 victory over Arizona State last Saturday.  Running back Travon McMillan rushed for 136 yards on 30 carries, and quarterback Steven Montez was sharp as he added 328 yards and 2 TDs in the air.  The win put the Buffs atop the South Division of the Pac-12, and undoubtedly will move them up college rankings.  Football is the ultimate team sport, but after a four-touchdown performance, wide receiver Laviska Shenault Jr. is creating his own headlines.
Thou Shenault Kill – Well, the Sophomore receiver is killing opponents as he leads the nation in receiving with 51 catches for 708 yards, and six touchdowns. With 211 receiving yards against Colorado State, and a game winner versus Nebraska, Shenault is commanding
What Shenault about that? – Laviska can run, too. At 6'2 and 220 lbs., Shenault has often been featured in the wildcat, and the results are 13 carries for 41 yards, and 4 touchdowns.  After two rushing touchdowns versus ASU, Shenault is now tied for the team lead.
There's no business like Shenault business – After only seven catches in his freshman year, Shenault has been all business this season. With four games of double-digit catches, four games of 100 plus receiving yards, and touchdowns scored in every game this season, the product of Desoto, Texas, has been a model of consistency.
Thou Shenault Steal – Unless we are talking about stealing Heisman votes. While the last Buff to win the Heisman Trophy was Rashaan Salaam back in 1994, and the last wide receiver back in 1991, Shenault was listed as high as fifth in the Heisman rankings even before his four-touchdown performance against ASU.  Odds are that a quarterback from a top-ten team will probably win the award again, but Shenault is doing his best to stay in the Heisman conversation.
Shenault me the money!!! – The one downside to the immediate success of the Buff's wide receiver is that he may not stick around Boulder. Only a Sophomore, Shenault is climbing up the NFL draft boards and it will be difficult to return if he is projected a third-round or above selection.  Former Buff Paul Richardson recently signed a five-year/$40 million contract with the Washington Redskins, so no one could blame Laviska for getting paid.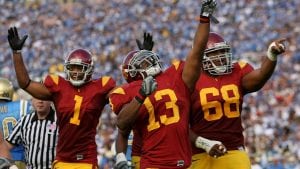 The reality is that Laviska Shenault Jr.'s Heisman chances will coincide with the Buff's success.  While beating the likes of CSU, Nebraska, and UCLA sounds good on paper, CSU is struggling, Nebraska is 0-5 under Scott Frost, and UCLA has yet to win under Chip Kelly.  Upcoming games on the road against USC and Washington will tell us whether the Buffs are pretenders or contenders.  Either way, the leaves are changing colors, the tailgate parties are plentiful, and the Buffs are undefeated for now.  Beating USC at the Coliseum might be a stretch, but despite the cold weather here in Boulder, the Buffs are streaking.
Images via flipboard.com, nytimes.com, 90s411.com, fanspeak.com
Alan Tapley is an educator, author, and blogger who has lived just outside of Boulder for the last twenty years.  His published work includes two novels, two children's books, a series of cartoons in the Minneapolis Star-Tribune, and multiple sports related articles. His love for family and the state of Colorado is only matched by one thing, his passion for sports.  The first baseball game he ever attended was at Wrigley Field, before there were lights.  At the final Bronco game at the old Mile High, he allegedly cut out a piece of his seat in the South stands.  But regardless of being here for the Avalanche's last Stanley Cup, the Rockies only World Series appearance, and all the Broncos' Super Bowl Victories, his wife never fails to remind him that he wasn't at the University of Colorado in 1990, like she was.  The year the Buffs football team won the National Championship