Rockies – No Story Book Ending in LA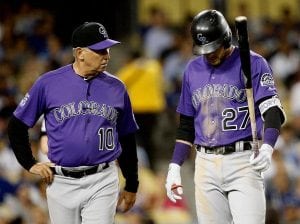 The Colorado Rockies showed up in Los Angeles with swagger, momentum, and a half-game lead in the division playoff race.  After a Dodger sweep, a Trevor Story injury, and a Nolan Arenado slump, the Rockies continue to ask the question, why can't we beat the Dodgers?  Here are seven major reasons.
Depth – When the Dodgers lost shortstop Corey Seager to injury early in the season, the former Rookie-of-the-Year and two-time All-Star was replaced by Baltimore's Manny Machado (37 HRs/102 RBIs). When Trevor Story had to remove himself against the Dodgers last Monday, he was replaced by Garret Hampson (0 HRs/3 RBIs).
A Pair of Aces – Fresh from a return from his demotion from AAA, Rockies ace Jon Gray lasted only two innings and gave up six runs in his biggest start of the season. The Dodgers Clayton Kershaw went seven innings and gave up only one earned run in a 3-2 win.  Subsequently, it was announced that Gray has been removed from the starting rotation.
Power Outage – With Story out of the lineup, and Arenado slumping (.234 in September), the Rockies were left with only two other players on the roster with 20 or more homeruns. The Dodgers have nine.  And that doesn't include Justin Turner.
The Bullpen – In the crucial three-game series, Los Angeles used 13 different pitchers to orchestrate the matchups against the Rockies hitters. Colorado simply hoped that the starting pitching would go seven innings, there would be plenty of ice for Scott Oberg and Adam Ottavino, and Wade Davis would get an opportunity to pitch with a lead. Which never happened.
Pinch Hitting – When the Dodgers needed a pinch-hitter they tried Joc Pederson (24 HRs/55 RBIs), Cody Bellinger (23 HRs/71 RBIs), and Matt Kemp (21 HRs/82 RBIs), before Yasiel Puig (22 HRs/62 RBIs) hit his dramatic pinch-hit homerun in game three to help sweep the series. When the Rockies needed a big pinch-hitter, they brought in Pat Valaika (.150/2 HRs/4 RBIs).
The Rookies – The Dodger rookies include pitcher Walker Buehler, who struck out 12 and threw six innings of shutout ball in game three, lowering his ERA to 2.74. And Max Muncy, basically a rookie, who has hit 33 homeruns despite only joining the team later in the season.  Colorado counters with Ryan McMahon and his .230 batting average.
Late Season Pick Ups – The Dodgers weren't done when they acquired Manny Machado. With a playoff race insight, Los Angeles picked up Brian Dozier, a second baseman from the Twins who hit 34 HRs, drove in 93, and won a Gold Glove in 2017, and David Freese, the veteran who just happened to be the MVP of the 2011 World Series with St. Louis.  The Rockies tried to keep pace by trading for backup catcher Drew Butera, a lifetime .201 hitter, from the Royals.
The Rockies have proven that last year was no fluke and I'm not suggesting that spending $50 million more to match the Dodgers is the answer.  But in a league in which just a handful of games decide whether you are in or out of the playoffs, the small market mentality, especially at the trade deadline, generally means a small market return.
Images via viportal.com, timescall.com, ftsusatoday.com
Alan Tapley is an educator, author, and blogger who has lived just outside of Boulder for the last twenty years.  His published work includes two novels, two children's books, a series of cartoons in the Minneapolis Star-Tribune, and multiple sports related articles. His love for family and the state of Colorado is only matched by one thing, his passion for sports.  The first baseball game he ever attended was at Wrigley Field, before there were lights.  At the final Bronco game at the old Mile High, he allegedly cut out a piece of his seat in the South stands.  But regardless of being here for the Avalanche's last Stanley Cup, the Rockies only World Series appearance, and all the Broncos' Super Bowl Victories, his wife never fails to remind him that he wasn't at the University of Colorado in 1990, like she was.  The year the Buffs football team won the National Championship