Colorado Christmas Tree Hunting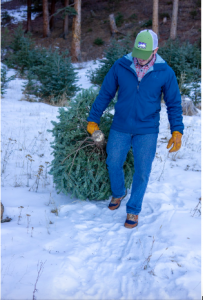 Christmas is right around the corner and if you haven't bought a tree yet I would like to offer up a cheaper and much more eco-friendly alternative. Now, this isn't to detract from any other major religious holiday but if you celebrate Christmas and you don't have a tree yet then this article is for you.  
What if I told you that you could help mitigate the risk of forest fires here in Colorado and get a Christmas tree for anywhere from $5 – $20? Now, you will have to head out into the National forest of Colorado and cut it yourself, but you can pick just about any tree you find.  So no, you don't need to cough up $60 for a tree that was grown just to be cut down and yes the tree you find might have a little more character.
The trees you will find out in the forest are not going to look like one of those tree lot ones…unless you are really lucky. With that said, however, you can be a bit more selective on the type of tree you end up cutting down. You can find Blue spruce, Douglas firs, Lodgepole pines, and the list goes on.  
There are a few rules/laws you need to be aware of, however.  
You are not allowed to use a chainsaw and besides, cutting down a tree with a hand saw or ax is part of the fun.  

The tree must not be more than 6 inches in diameter at the base of the trunk and you can not cut the tree above 6 inches from the ground.  

You also want to cut down a tree that is close to other trees, remember the reason you are allowed to cut trees down is to help thin the forest and space out trees to make it harder for a forest fire to rage through that area.

Scatter any tree remains left over after cutting down your tree.

Leave no trace!

Finally be sure to attach your permit to the tree so you aren't ticketed for illegally cutting down trees.  
The above map shows all the areas you can go to find a tree. Each district has specific dates you are allowed to cut trees and different costs associated with their permits.  If you are interested then you can head to www.fs.usda.gov to get more information on each location and the costs associated with it.  
There is something about having a tree you cut down in your home for the holidays. Personally, I think they smell better and last longer than a tree from a tree lot because often those trees were cut down days and even weeks before they end up in your home. Furthermore, who puts up a plastic tree anyways?
Martin is just an adventure loving guy, any adventure really, but he particularly loves the outdoors in Colorado.  Having grown up in Colorado for most of his life he has been camping since before he could walk.  When he isn't out in the Colorado wilderness, camera in hand,  camping, hiking 14ers, rock climbing, snowboarding, or brewing beer he is a Marketing and Business Development Coordinator.  Martin has a personal motto that states "Don't Die on the Couch" and he does his best to live up to it by getting out on an adventure every chance he gets. You can visit his blog at www.adventureactual.com and his photography site at www.southwestsunsetmedia.com  or follow along with his instagram @martysmash