Hotel Luna Mystica – Glamping Done Right

Hotel Luna Mystica
Down in New Mexico at the foot of Wheeler peak and right next to the Taos Mesa Brewery Mothership stands a little-known hotel…if you want to call it that.  Hotel Luna Mystica is what they call it and it is an amazing place dotted with restored vintage trailers, campsites, and even trailer hookups if you bring your own. Trailer park? Not quite. At the risk of this place being overrun, let me tell you a little bit about it.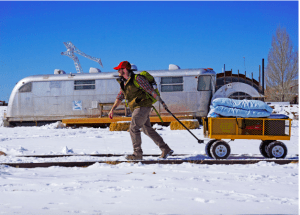 The Best Winter Glamping Escape Close to Colorado
Hotel Luna Mystica is an experience, to say the least, they have several restored vintage trailers as I mentioned before and they have done things like installed permanent plumbing, full kitchens, and stocked them with everything you could need during your stay. They are all heated and cooled depending on the weather and come in a variety of sizes and price points to meet any budget need. Every trailer has a fire pit outside and you can buy firewood onsite on the cheap. Having been both in the summer and winter I can vouch that they stay comfy no matter what the outside temp.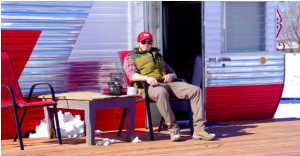 A Unique Experience Every Time
Because every trailer is different you could stay there 16+ times and get a completely different experience in your "room" each time.  Every trailer has its quirks and they all have a story if you ask the staff. The attention to detail is amazing because these guys have thought of everything.  The laid back easy going vibe, however, will be noticed every time. The owners and operators are some awesome guys, everyone who services the rooms are awesome and we have yet to meet one person staying in one of the trailers without a smile plastered to their face.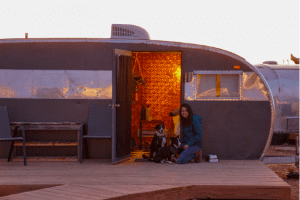 A Dog-Friendly Place to Glamp
One thing I really dislike about many big name glamping spots is that they don't allow dogs. At Hotel Luna Mystica they love dogs as long as they are well behaved. This is huge for my little family because we love to take our mutts with us everywhere if we can. Every time we have been down, there is always several dogs running around we typically let our mutts loose and it is just a dog party. It is great, you mix up some cocktails and take it easy on the porch while your dogs run themselves tired and then they sleep like babies all night.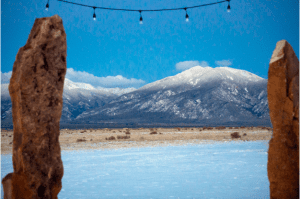 Not Just a New Mexico Desert
The Taos mesa might look like a desert with some mountains in the distance at first glance but you are actually just about a mile high, just like here in Denver.  While it is a desert climate there on the mesa…so is Denver and they get snow, like quite a bit of snow. n fact, there is a ski resort about 45 minutes up the mountain from this very hotel. There are also miles and miles of hiking trails about the same distance away and natural hot springs just 15 minutes away. Snow or sun there is always something to do.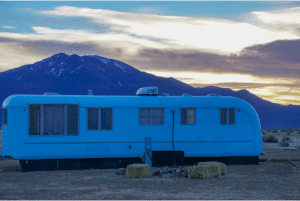 Views for Days
Here's a fun fact, every trailer opens its front door to a view of mountains…every single one. So, no matter what trailer you choose you will be greeted by mountains every time you open the door. Not a bad way to spend a getaway I would say. Add in the enchanting high plains environment of the mesa and you have a recipe for some eye candy. Sunsets and sunrises are off the charts.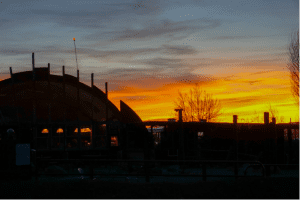 Next to an amazing brewery
The hotel, if we are still calling it that, sits right next to the Taos Mesa Brewery Mothership. Not like down the street or across the way it is like maybe 500 feet away…maybe. The guys there brew some amazing beer and there is something going on at the brewery every night. Really every night. The food there is also amazing so if you don't want to whip up something in your trailers fully stocked kitchen just take a quick walk over to the brewery and grub down on some amazing food.  All in all, you can't go wrong with this place, it is like nothing you have ever experienced before.
Martin is just an adventure loving guy, any adventure really, but he particularly loves the outdoors in Colorado.  Having grown up in Colorado for most of his life he has been camping since before he could walk.  When he isn't out in the Colorado wilderness, camera in hand,  camping, hiking 14ers, rock climbing, snowboarding, or brewing beer he is a Marketing and Business Development Coordinator.  Martin has a personal motto that states "Don't Die on the Couch" and he does his best to live up to it by getting out on an adventure every chance he gets. You can visit his blog at www.adventureactual.com and his photography site at www.southwestsunsetmedia.com  or follow along with his instagram @martysmash