6 Reasons Why Moab is a Great Escape From Colorado Fall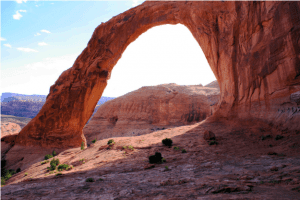 Let's face it Colorado is beautiful in the fall but for some, it just is not their favorite time to camp.  While most days are absolutely beautiful and make great camping weather some days see 40-degree swings between the highs and lows and it can get pretty damn chilly at night. Maybe you read my article about the 7 features to consider when buying a winter sleeping bag and you bought that sleeping bag and you're still cold.  Well, you have a few options, you could go back to California, Texas, or Florida because you clearly aren't cut out for this state or… you know go camping in Moab, Utah.  
Moab sees a lot of tourists every year and if you've ever been there on a Memorial, 4th of July, or Labor Day weekend you know that the whole surrounding area for about 50 miles in every direction is a zoo. In the fall and winter time, however, Moab is a great escape and the following reasons are why.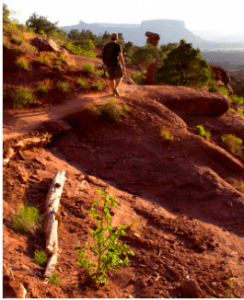 Why Moab is a great escape from Colorado Fall:
1. Moab is only 5 hours from Denver.  
That is not a long drive and considering it takes longer to get to Telluride or Durango, which are in the same state, from here I would even call that close. Shoot, time it right and you won't even hit I-70 traffic…maybe.
2. Mild Temperatures.
It hardly ever snows there and the temperatures are pretty mild in the fall and winter.  Typically you will find temps in the 40 to 60-degree ranges in Fall and only slightly less than that in the Winter. Consider that Moab averages 7 inches of snow per year. The US average is 26 inches of snow per year. Snow is rare and just like the front range when it does show it is usually gone by the end of the day.  Let's also not forget you aren't getting the scorching heat of the summer sun either.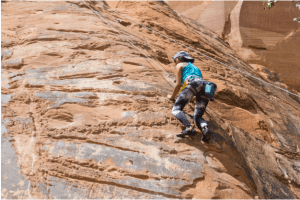 3. No Crowds and Empty Trails.
The typically overrun Arches and Canyonlands National Parks are just about empty.  Most of the fanny pack wearing tourists are scared off by the "cold" and the 4×4 enthusiasts steer clear because the slick rock is well…slick when they do sometimes get snow. The brave souls that do venture out are met with empty campgrounds and unobstructed views of the the amazing landscape.
4. Views for Days.
Speaking of views because Moab's canyons don't typically have a ton of foliage their beauty remains the same year round. In fact, a lot of photographers head to this area in the off months because they are able to capture the beauty of the arches and canyons without worrying about the throngs of tourists blocking their shot. I would be included in that group.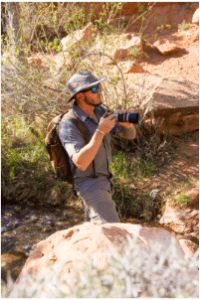 5. Off Season Pricing.
Because Moab does see less traffic during the cold months pretty much everything is cheaper. This includes hotel rooms so if you want to opt for staying indoors or even just have it as a backup plan you are almost guaranteed to find a room and for a rate to the tune of about $60. Keep in mind all those little tourist traps in downtown Moab survive off the masses and when the masses are gone everything is on sale. Honestly, you can barter like you were at some open-air market in Turkey, they just need to move inventory.
6. No Shortage of Outdoor Activities.
Just about all the Summer activities are available to you in the Fall and Winter in Moab.  River activities and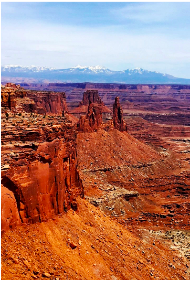 Mountain biking, The Whole Enchilada might be off but otherwise pretty much everything is open. It is a great opportunity to go explore hikes that are normally mobbed on and even do some 4×4 as long as the weather holds up. Even the climbing routes are less crowded…no that's a lie, dirtbags never quit, but at least they are nice and always share routes.
Hit the correct weekend and you can enjoy 70-degree weather during the day and low 40s at night.  Empty campgrounds and trails giving you plenty of photography opportunities. The locals will welcome your tourist dollars with smiles instead of the spring and summer time scowls you typically see from overworked employees. So, get out of Colorado and head to Utah, but maybe leave those THC gummies at home because remember not every state is as cool as this place we call home.  
Martin is just an adventure loving guy, any adventure really, but he particularly loves the outdoors in Colorado.  Having grown up in Colorado for most of his life he has been camping since before he could walk.  When he isn't out in the Colorado wilderness, camera in hand,  camping, hiking 14ers, rock climbing, snowboarding, or brewing beer he is a Marketing and Business Development Coordinator.  Martin has a personal motto that states "Don't Die on the Couch" and he does his best to live up to it by getting out on an adventure every chance he gets. You can visit his blog at www.adventureactual.com and his photography site at www.southwestsunsetmedia.com  or follow along with his instagram @martysmash