6 Essentials for Summiting Colorado 14ers in the Fall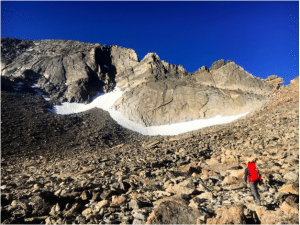 Hiking 14ers in Colorado has become popular to say the least.  Often while hiking to a summit I see a family with kids in tow, donning t-shirts, shorts, water bottles, and maybe a few rain jackets spread amongst them.  That is great and really during the summer, without storms in the forecast, that's about all you need. Many of the 14ers are so heavily trafficked that new easy to access trails have been built and even if you did run into problems the likelihood that someone would be by to help within a matter of minutes is pretty high.  These summer summits are great but some of us want to continue summiting 14ers, 13ers, or heck any mountain not on the front range well into the fall. This is totally doable and honestly fall is one of my favorite times to hike. While the summits can be a bit cold, over all the weather is nice, there is typically less chance of rain, and usually the leaves are changing…not so much this year with the early change but still.  That said, here are some changes you need to make to your kit and the following will cover some of the essentials you should consider bringing.
1. A larger capacity daypack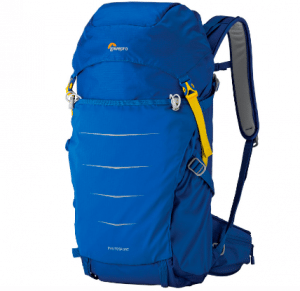 You are going to need to bring more layers and ultimately more equipment for a fall hike.  Your 18L little camelback may not exactly cut it. I have 2 go-to-packs I now use. On longer hikes the Mammut Trion Pro 35+7L Backpack which can honestly be used for overnights, so it has plenty of room and for shorter or technical hikes where I am going to be taking a lot of photos, the Lowepro Photo Sport 300 AW II which safely houses my camera with plenty of room for layers and lunch.
2. A powerful headlamp  
Shorter days mean more time on the trail when the sun hasn't quite come up yet.  I usually also bring a handheld flashlight just in case. Now I always bring a flashlight when I hit the trail.  Especially after being up on one of the bells as the sun went down with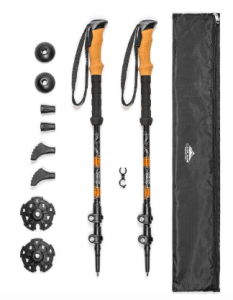 miles to go before hitting the trailhead with no flashlight. I like this  Black Diamond Revolt Headlamp as it actually lets you see past arm's length.
3. Trekking poles  
At least one of these go in my hiking pack almost no matter what I am hiking.  Did you know the use of trekking poles reduces the stress on your knees and lower joints and makes a world of difference coming downhill?  Did you also know they can totally save your ass when you are scrambling down a scree field? There is no need to buy expensive $100+ poles here either.  I have been using these Cascade Mountain Tech poles that run roughly $20 for a pair for 6 or so years now and they have performed better than anything else I have tried.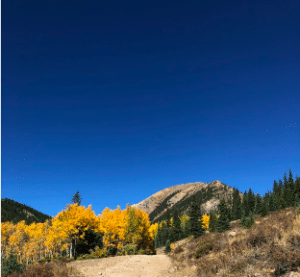 4. Yaktrax or some form of traction  
While the chance of rain is severely less during the fall, snow is likely at some point.  Keep in mind that while I write this several of our peaks here in Colorado have already received snow.  You may run into some snow packed trails as the season goes on and metal contact with that snow or ice will greatly improve your traction and keep you from breaking a leg.  I prefer the Yaktrax pro because they work, they are light, and they are compact.
5. A solid midweight layer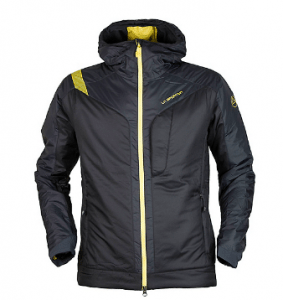 You are going to want something that insulates, is water resistant, packs down, and has a hood. (trust me on the hood) I like this La Sportiva Pegasus 2.0 Primaloft Jacket, it stretches in all the right places, has a DWR coating, is nice and toasty, breathes, and has a helmet compatible hood with a silicone strip on the inside to keep it on your helmet and not around your neck.  
6. Your ten hiking essentials
Navigation, headlamp (See above), sun protection, first aid, knife (and gear repair kit), fire (matches, lighter, and starters), shelter (emergency blanket works fine), extra food, extra water, and extra clothes.  I can't tell you how many times one of these items has saved my ass.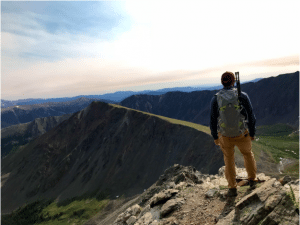 Remember that with each change of season you should always make changes to your kit.  These are general recommendations of what I use and work well for me, you may need something completely different.  Fall is my favorite time of the year by far and I love hiking up high until the snow starts to set in. The links in this site go to a curated amazon page I created and I do receive a kickback from any products bought from it.  Those kickbacks are nominal at best and I would recommend using that page as a source of information to then find the best deal on those products.
If you already have this covered and you are ready to start prepping for the real mountaineering this winter once the snow starts to get deep, then head to my website for 11 Winter Mountaineering Essentials you should have to get some snowy summits in this winter.  
Martin is just an adventure loving guy, any adventure really, but he particularly loves the outdoors in Colorado.  Having grown up in Colorado for most of his life he has been camping since before he could walk.  When he isn't out in the Colorado wilderness, camera in hand,  camping, hiking 14ers, rock climbing, snowboarding, or brewing beer he is a Marketing and Business Development Coordinator.  Martin has a personal motto that states "Don't Die on the Couch" and he does his best to live up to it by getting out on an adventure every chance he gets. You can visit his blog at www.adventureactual.com and his photography site at www.southwestsunsetmedia.com  or follow along with his instagram @martysmash