7 Reasons to rent a Land Cruiser from Blue Ox Overland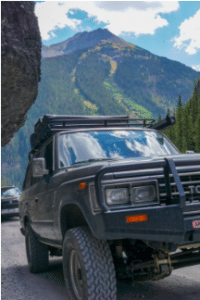 This summer I had the opportunity to rent a 1989 FJ62 Toyota Land Cruiser from @blueoxoverland here in Denver.  Not just any Land Cruiser either as it was outfitted with everything I needed to make camp just about anywhere I wanted.  We are talking about everything from roof top tent to a cooler to 4×4 lockers on the wheels. Blue Ox Overland specializes in these rigs and has a fleet of 4 in varying colors and years but they are all FJ62s, one of the most iconic series of Land Cruisers Toyota ever made. Of all the outdoor experiences I had this year in Colorado this was by far the coolest and here is why you should rent one for your next adventure.
1. The amazing customer service.
Geoff and Kristin are amazing and go above and beyond to to ensure your every need is met and that their customers are delighted.  They know their rigs inside and out and you can tell they put a lot of love into what they do. They walk all of their clients through an onboarding session familiarizing you with the rig and how to use the attached tent and awning.
2. The FJ62 series Land Cruiser will literally go anywhere.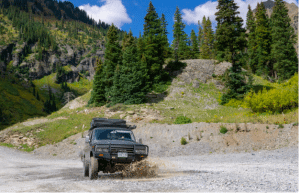 These things will get you anywhere you need to go in Colorado.  They are absolute beasts with more ground clearance than you could need, locking 4×4, steel bumpers, and the works.  Not to mention creature comforts like power windows and locks as well as an automatic transmission. (Have no fear, millenials who don't know how to drive a stick). While Blue Ox Overland does typically have a few restrictions on trails they don't allow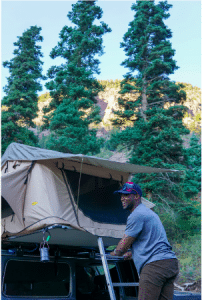 you to go on you can pretty much point one of these rigs up a trail, lock the lockers, transfer into 4×4, and go. And go it will, with all the capability of pretty much anything else you see out there.  
3. The Land Cruiser is a hotel and rental car in one.
With an equipped Smitty Bilt roof top tent and awning attached to the rig you can set up camp just about anywhere you want.  Not to mention all the extras they provide but, more on that later.
4. You will look like you know what you are doing.
They aren't branded so you don't stick out as just some person who rented an adventure vehicle.  Unlike some rental companies who plaster advertisements all over their rentals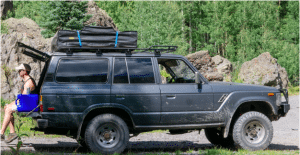 Blue Ox Overland wants to allow their clients to blend in if desired…although that is hard to do in a tricked out FJ62 Land Cruiser. Be prepared for people asking you about your rig and marveling at how well it is equipped.  
5. They are really inexpensive.  
At $150 per night they cost less than most hotel rooms here in Colorado.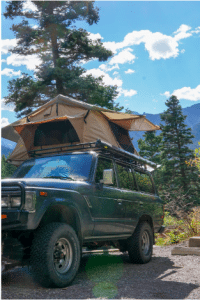 Plus, depending on where you park it you will be getting a much better view.  And again…it is also your rental car.
6. Land Cruiser dependability.  
Toyota used to test these things in the Australian outback, considered to be one of the toughest operating environments in both temperature and terrain. These things run forever and very well at that. Go ahead and try to find some of these for sale. You will see many with well over 200k miles without a problem and you will also discover just how well they hold their value.
7. Everything for camping is included.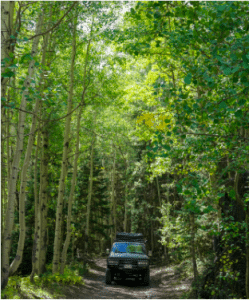 Geoff and Kristin have thought of everything. You could literally hop off a plane with your duffel of clothes, pick up one of the rigs, stop by the store for food and beer on the way out and you would be set. Every rig comes with: Rtic cooler (Chilled), 5 gallon water jug (Filled), camping stove and propane, camp kitchen box stocked with everything you could possibly want, table, camp chairs, food box ready to be filled with your favorites, towles, bedding and pillows, and even a spade and roll of toilet paper…for when mother nature calls in the backcountry.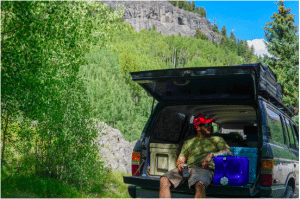 The experience driving one of these rigs out to Ouray was amazing. We got it out and about and took it up to the Yankee Boy Basin. I got a ton of looks and questions and even caught a few people just staring at it while we were in a brewery. I will absolutely rent from them again and I encourage you to check them out. Although the nights are getting chilly there is still plenty of outdoor fun to be had in Colorado. Just grab your sleeping bag for some extra warmth and get out there to see the leaves change or maybe you want to bag some 14ers this fall. This is the way to do it in style and with amazing capability. Speaking about bagging 14ers in fall look for my next article on how to prepare for summiting peaks when the weather is a bit more on the chilly side!
Martin is just an adventure loving guy, any adventure really, but he particularly loves the outdoors in Colorado.  Having grown up in Colorado for most of his life he has been camping since before he could walk.  When he isn't out in the Colorado wilderness, camera in hand,  camping, hiking 14ers, rock climbing, snowboarding, or brewing beer he is a Marketing and Business Development Coordinator.  Martin has a personal motto that states "Don't Die on the Couch" and he does his best to live up to it by getting out on an adventure every chance he gets. You can visit his blog at www.adventureactual.com and his photography site at www.southwestsunsetmedia.com  or follow along with his instagram @martysmash