Everything Is (Slightly Less) Awesome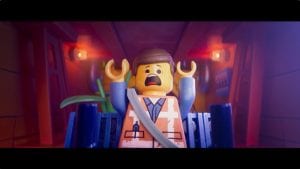 It's very difficult to be surprised by movies these days. You've seen trailers released by major studios that seem to leech most of the drama out of the film they're promoting. If you go to certain corners of the internet, you can piece together marketing materials, leaked screenplays, and footage and basically get the gist of a film before it's even playing theatrically.
That sucks, so I cherish those moments, particularly in studio blockbusters, when I get blindsided. One of my favorites from 2018 was the last 30 minutes of Avengers: Infinity War. If you haven't gotten around to seeing that particular cultural juggernaut I won't be so churlish as to spoil it. I will say that I admired the courage it took on the part of the filmmakers to allow the audience to leave on those particular notes.
Back in 2014, I was flattened by The LEGO Movie. Can you blame me? From the outside, it looked like little more than an extended toy commercial. We had already endured several appalling Transformers movies, and what were the odds a movie about toy bricks would be anything approaching good?
Turns out the odds were pretty good! A blend of strong visual storytelling, whip-smart writing, and a voice cast game to go as ridiculously as possible is why I maintain The LEGO Movie is the best film of 2014. It made over $400 million at the box office meaning that a sequel was required by federal law. Now that sequel, The LEGO Movie 2: The Second Part, is upon us. It may not have the blazing creativity of the original, but it's still good, good stuff.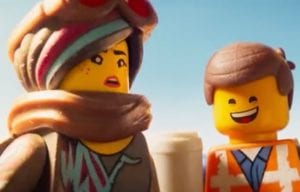 Picking up five years after the events of the first film,* the candy-colored metropolis of Bricksburg has been overrun by squeaky-voiced invaders from the Duplo galaxy. In a clever nod to Mad Max: Fury Road, it's now known as Apocalypseburg, and the inhabitants have adapted accordingly. Surfer Dave has become Chainsaw Dave. Sewer babies are a part of the morning commute. Lucy/Wyldstyle (Elizabeth Banks) has become a hardened warrior who spends her mornings staring out upon the wasteland and brooding.
Well, almost everyone has adapted accordingly. Emmet (Chris Pratt) is still sunny, industrious, and perky. In the middle of this dystopian nightmare he's built a cute little house to impress the tough-as-nails Lucy. He's also started having mysterious dreams about an impending "Our-Mom-Ageddon."**
There's no time to worry about signs and portents, not with the arrival of General Mayhem (Stephanie Beatriz), the commander of the Duplo forces. She announces that the alien Queen Watevra Wa'Nabi (Tiffany Haddish), supreme leader of the Duplos, is intent on marrying Batman (Will Arnett). In short order, Batman is kidnapped, along with Lucy, Unikitty (Alison Brie), MetalBeard (Nick Offerman), and Benny (Charlie Day). What's the hapless Emmet to do?
Well, he grabs his trusty plant, Planty, he builds a spaceship, and he heads off to the Systar System to rescue his friends, naturally! Along the way, Emmet encounters Rex Dangervest (Also Pratt), a hilariously "edgy" adventurer accompanied by an army of tennis-loving velociraptors. From there we'll get lots of music, a blizzard of pop-cultural humor, and some interesting observations about how we play and who we play with.
Last June I caught the boringly titled Incredibles 2. A little distance from that film tells me two things: first, it isn't quite the thunderbolt of pure imagination that the original is; second, it remains a nearly impeccably made film that remains true to the spirit and ethos of its predecessor. I feel exactly the same way about The LEGO Movie 2: The Second Part.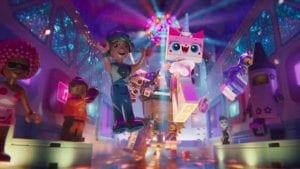 You can be forgiven for feeling apprehensive about director Mike Mitchell considering some of his past films were Deuce Bigalow: Male Gigolo, Shrek Forever After, and Trolls. There are definitely moments where you can feel the pacing lag noticeably as well as sequences that are a little repetitive. Mitchell strikes me as a filmmaker who doesn't necessarily have a distinctive directorial voice. Rather, he's a team player who rises to the level of the team around him. Here, he's got a strong script to shoot from and producers who know exactly what the finished film should be. He may not be the driving force, but he's delivered some solid filmmaking results.
Christopher Miller and Phil Lord are the driving forces in this particular case. Last time out they directed, produced, and wrote the screenplay. While they have handed off the filmmaking duties, this feels like their baby, primarily due to the script. Lord and Miller excel not only at transforming bad ideas into great ones, but they also have a solid understanding of how stories are told. That understanding allows them to tweak common tropes and spin them off into something unique, and you can see the results of that in the wildly creative Spider-Man: Into the Spider-Verse. However, they haven't quite cracked sequels. You can see that in the very good 21 Jump Street and not quite as good 22 Jump Street, and you can see that here. True, it's not fair to penalize them for failing to recapture the magic the first time around. Their script is still crammed with a metric ton of clever jokes and tunes, including the appropriately named "Catchy Song."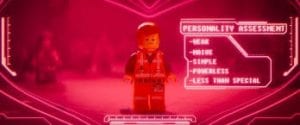 Just like last time, the cast has come to play. I give Chris Pratt a lot of credit for not only recapturing the sweetly zany energy of Emmet but also having a great sense of humor about his career playing the try-hard explorer/archaeologist/raptor trainer Rex Dangervest. Will Arnett's Batman is still hilariously narcissistic, and Elizabeth Banks as Wyldstyle gives possibly the best performance, combining exasperation, determination, and hidden sweetness. I say "possibly the best performance," since Tiffany Haddish gives her a run for her money. As the shape-changing Queen Watevra she's delightful, particularly in a scene where she tricks Batman into proposing to her by implying she's really into Superman.
I can live with The LEGO Movie 2: The Second Part occupying a slightly lesser level than its predecessor. I'm pleased we've got a sequel that's still motivated to do more than simply coast on the goodwill gained from the original. Plus, how can you get cranky when you have an end credits song by Beck, Robyn, and The Lonely Island about how great end credits are?
*If you haven't seen the first movie, this plot synopsis will sound insane. Plus, if you haven't seen the first movie by now, why not?
 **I desperately want a movie where the main character has ominous visions that turn out to be nothing.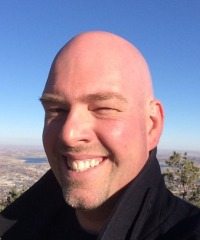 Tim has been alarmingly enthusiastic about movies ever since childhood. He grew up in Boulder and, foolishly, left Colorado to study Communications in Washington State. Making matters worse, he moved to Connecticut after meeting his too-good-for-him wife. Drawn by the Rockies and a mild climate, he triumphantly returned and settled down back in Boulder County. He's written numerous screenplays, loves hiking, and embarrassed himself in front of Samuel L. Jackson. True story.