Colorado Poets Series: Interview with Khadijah Queen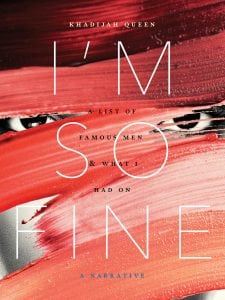 When I looked to a few people for recommendations for poet interviews, 100% of those I consulted recommended I get in touch with Khadijah Queen. I now understand why; aside from a stream of impressive credentials, her most recent work I'm So Fine: A List of Famous Men & What I Had On, is a feminist force simultaneously advocating as she narrates a series of autobiographical experiences with celebrity figures who exhibit toxic masculinity. These pages provide a crucial, unblinking look at how patriarchy affects society on a person-to-person level. Khadijah Queen kindly shared a few thoughts on her most recent work in a recent e-interview:
Your sense of narrative ownership exhibits an essential, yet severely lacking willingness in our culture to bring such issues of courtship conduct and consent to light. How do you feel reader reception of your work has reflected on the contemporary context of these ongoing issues?
Readers seem to have connected more to the way the book demonstrates a sense of empowerment, self-knowledge and self-acceptance for the narrator. I suppose in terms of courtship conduct and consent, clarity and agency have been foregrounded, whether the narrator escapes problematic or precarious situations or not.
What did you feel came naturally in the writing process of I'm So Fine : A List of Famous Men & What I Had On? What aspects of the writing process did you find more difficult?
Finding the form was the most difficult, and that took the most time. They started as a list, then lineated poems, both with punctuation. But then I started to read them publicly and found a breathless, speedy reading voice that matched matched teenaged me. It made sense to remove the punctuation and use prose blocks to align the form with the
voice and content. The content came most naturally; it was actually a lot of fun to write, the most fun I've had writing a book yet.
Though your narrative addresses a series of celebrity encounters, its feminist ideas are without doubt universally applicable. The celebrity status of these men seems to have exacerbated their ideas of entitlement and eliminated those of consent. What other factors do you believe contribute to this masculine toxicity?
Toxic masculinity is embedded at the core of most religions, government structures and cultural practices, and accepted as the reality that we all must deal with. However, there are other options, and I think imagining those options is the work of the present and future. The book just begins, through story, to name the issue, and then to question its continued acceptance.
I'm curious: the majority of celebrities in your work are named. Have there been any conversations with these famous figures following the book's release? Perhaps an apology? Angry backlash?
None whatsoever. I don't think too many of them read contemporary poetry 🙂
Enjoy an Except from I'm So Fine: A List of Famous Men and What I Had On
I met Marcus Chong on the 105 bus method acting
I was going home in a flowered dress after work I worked at Fatburger I was 18 & I think he was twice that I had my uniform in my backpack with my Statistics homework & Woman Warrior I recognized him & said I liked Panther (this was way before The Matrix) he asked for my number we talked on the phone he came to visit me on his bike since he didn't live far from my job & ordered a veggie burger I had a lemonade on my 15-minute break in my black Fatburger outfit & foodservice shoes he asked me on a date I said yes he called with the plan I said I thought we were going somewhere but he wanted to make me dinner at his house I said No I don't know you well enough to go to your house he got angry The End
Credit: YesYes Books 2017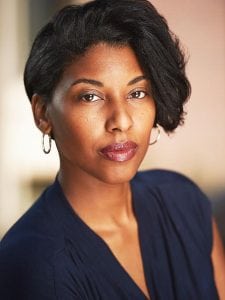 Khadijah Queen is the author of five books, most recently I'm So Fine: A List of Famous Men & What I Had On (YesYes Books 2017). Earlier poetry collections include Conduit (Akashic / Black Goat 2008), Black Peculiar (Noemi Press 2011) and Fearful Beloved (Argos Books 2015). Her verse play Non-Sequitur (Litmus Press 2015) won the Leslie Scalapino Award for Innovative Women's Performance Writing. The prize included a full staged production of the play at Theaterlab NYC from December 10 – 20, 2015 by Fiona Templeton's The Relationship theater company. Individual poems and prose appear or are forthcoming in Fence, Tin House, American Poetry Review, Buzzfeed, Gulf Coast, Poor Claudia, The Offing, jubilat, Memoir, Tupelo Quarterly, Best American Nonrequired Reading, DIAGRAM, The Volta Book of Poets, LitHub, The Force of What's Possible and widely elsewhere. Reviews of her work can be found in O Magazine, The New Yorker, Rain Taxi, BOMB Magazine, SCOUT, Publishers Weekly, Los Angeles Review, Open Letters Monthly, The Volta, Kenyon Review, Boston Review, and other publications. She serves as core faculty in poetry and playwriting for the new Mile-High MFA in creative writing at Regis University.
Awards for I'm So Fine: A List of Famous Men & What I Had On :
Finalist, 2018 Balcones Poetry Prize and CLMP Firecracker Award for Fiction
Finalist, 2015 National Poetry Series
Bianca Glinskas hails from sunny Southern California, where she studied English and Creative Writing at California State University of Long Beach. Her studies kindled her love for poetry by 
finally
 introducing her to the impressively ever-evolving contemporary poetry scene (a welcome break from studying the Romantics). Bianca's work has recently appeared in the first online issue of  
Ordinary Madness 
and the Winter 2017 issue of  
Glass Mountain Magazine; 
since her recent move to the area, Bianca is keen to jump headfirst into Denver's literary scene; she is confident that it burgeons in the footprints of significant literary figures who once walked its streets (such as John Fante, Jack Kerouac and others) who also found themselves compelled to answer the pulsing, bluesy call of Denver's Metropolis hearth. When she isn't reading or writing, Bianca enjoys doing yoga, playing viola, exploring the outdoors, drinking at breweries, and holing up in coffee shops for hours on end. For any inquiries regarding Bianca's coverage of Denver's literary scene, please do not hesitate to contact her directly at 
bglinskas@gmail.com
.