Chef Knives: What Do The Professionals Use?
            This article is to not serve as a promotion for any businesses mentioned below
We have all been there, watching the food channels on the television, and the thought occurs to you:
What are these professionals using?
Which knife brands should I be looking at?
While we all love a celebrity chef, let's consider the local professionals that work hard to bring quality to your plate, whether you used a delivery method to eat at home, or you are dining in, you matter. In the same breath, the quality of their tools matter, it is easy to understand that a sharp knife makes everything easier, and different brands bring different qualities to the table. A chef can become so attached to one specific knife that it is almost like an extension of his being. While this has no doubt been said so many times over the years that it almost comes off as a cliché, there is still some level of truth here. When asked about why chefs prefer specific knives, it is no surprise they couldn't give an in depth answer; seeing as I was at work during the times I was talking to these individuals, they would look at their knife, and you could see a part of them melt a little. They would pick up the knife, consider the blade, the handle, the weight, the minute details then give me the basic answer: I don't know, it just works for me.
So, with that, is it possible the connection to these knives is more subconscious than anything? Definitely. Aside from the immediate attraction that could come from the brand, the materials used to make the knife, style of the knife, etc, I have no doubt chefs are attracted to their tools on a subconscious level, even I have been subject to this connection to my tools. From here we will go through a few of the chefs I have met in the industry and which knife is their favorite, maybe this will give you ideas for the coming holiday, and if so, I suggest you check out SparrowHawk Gourmet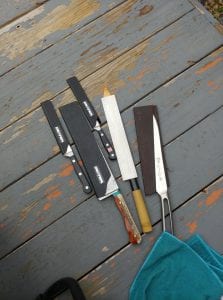 Cookware; Allen works hard to ensure his customers are taken care of properly, he takes pride in his work, and he stocks quality products in his local shop on Tejon.
Chef Dylan Montanio, chef of Smorbrod on North Cascade, was more than happy to comment for the article stating while his favorite tool is his pre 1950 cleaver, his go to knife is his Shun Kanso 7" Santoku because: "I use it for 95% of everything I do in the kitchen, Initially I got it because a 7" Santoku is the perfect size for working on a line, and the dropped point makes it harder to ruin the tip on the back of 9th pans of mise en place or when a cook inevitably knocks it on the floor. I love it because it's the perfect middle between a Japanese and a European knife; the steel is AUS10, which is a tool steel, so with the right heat treatment it is really resilient. It takes and holds a great edge without getting brittle, and it is easy to re-sharpen. And I got the knife for $89, it performs almost as well as a higher end Japanese knife in terms of life of the edge. Also, because of the hollow grounds it actually has a better time releasing food from the blade, so you wind up being much faster even without the highly manicured edge and super thin blade. Plus, it is a no bullshit construction, totally straightforward, nothing on the knife is embellishment or ornament. It is purely functional and yet it is an aesthetically pleasing blade without trying."
I initially started working for Dylan right on opening night of Prime 25 almost 2 years ago, another cook who I worked with at Prime is Tony Shaffer, who is now the head chef of the Purple Toad out in Falcon, Colorado; he was also willing to comment for the article saying while he realistically uses any sharp chef knife he can get his hands on, his go to is his Richmond Artifex Carbon Steel Gyuto, this is because: "The knife holds a nice edge, and it is very versatile while giving me more than adequate cutting board clearance."
Another individual who worked at Prime 25 at the same time as Chef Dylan, Tony, and myself, is Chef Israel Medina, or Chef Izzy as we knew him; he was the Sous Chef for Dylan for a time before moving back to Arizona to pursue new ventures. He is currently the Executive Chef of the Salty Sow in Scottsdale, so if you are ever in the area be sure to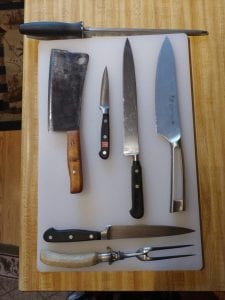 check it out. He loves his Tojiro knives, as he went on to explain: "I love using Tojiro knives! They are priced really good for an every day use, all around a great knife! Holds a really good edge and is easy to sharpen! A great Japanese knife!"
Caitlin Knight, a cook in between jobs at the moment and a good friend of mine, stated she has two favorite knives because of their different functions, which is also something to consider when shopping for your own knives. "So, I actually have 2 favorites, and I use them for different things. One is my 8" Four Star Zwilling Chefs knife. I like that one because it's a great all-purpose knife. I can use it for everything from breaking down meats like steaks, chickens etc. rapidly and easily, to more delicate stuff like taking shallots down to a brunoise. My other favorite is my 4" Four Star prep knife. It's also a Zwilling. I like that one because it's got a thin blade and I keep a razor, sharp edge on it, so it's great for dealing with extremely fine stuff, like cutting herbs, specifically things like "chiffonading" basil because it doesn't leave the edges bruised like can happen with a bigger or duller knife. It's also good for dealing with berries, which again are very delicate. The model I use is also has a matte finish acrylic handle, which is great because on my chef's knife it retains a decent grip even if I'm dealing with an oily product. It's also way more resistant to developing cracks and bacteria like can happen with wooden handles. Those don't normally have any issues as long as you take proper care of them, but because I sometimes loan other people my knives it gives me peace of mind knowing I don't have to worry about someone else accidentally messing up my knife."
Tommy Graves, chef owner of the company Hustle & Heart Hospitality, was also more than happy to jump on board to help educate you, the readers, on what the chefs of Colorado use in their work. He uses the Messermeister Four Seasons line because: "It is a good quality composite blade, keeps a great edge, plus it is lightweight. Repetitive movements add up and the light weight is great. For the price of one Shun you can get a whole set! Been using the same set for 6 years without any problems."
The following was sent to me by Jamie Dahlin, we worked together for a good amount of time at the vegan restaurant Moxie, and while he is currently out of state until next winter working as the head chef at Mr. Helsinki Wine Bar and Art Gallery in Door County Wisconsin, he went out of his way to comment for us. "Obviously you know lol… I prefer the Zwilling Pro line from J.A. Henckels. Very similar to Wusthof, this line is made of forged German steel (though both companies were founded before Germany was even a country). With a hardness rating just one point below Wusthof I find both to stay sharp about 3 days in the kitchen. Though Zwilling is easier to sharpen and hone to the desired angle. Also, the handle is designed almost flawlessly. With the bolster curving from the handle into the blade instead of using clunky right angles. It truly makes the knife feel like an extension of your arm." His comment on the curve of the bolster is referring to what is called a "recessed bolster", to fully understand what this means I would suggest anyone check it out on the internet or go to your local cutlery shop to identify the different bolster styles between multiple brands. When pinching the blade, it is almost an immediate deal breaker whether you like the bolster of a knife or not,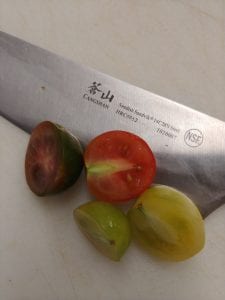 seeing as professionals no doubt use their chosen knives for a minimum of 4 hours a day it is a given that the handle has to fit like a glove.
Which goes into what Jeremiah Gray, sous chef at Moxie, mentioned when talking to me about his Wusthof Legende Chef's knife: "With the chef's knife being the most essential tool, I found it important to find a knife that fits my hand but also my style and personality." And that goes back to the initial remark of being subconsciously attracted to a knife beyond the immediate details you see with your eyes and feel with your hands.
Allen Eppley, owner of SparrowHawk on Tejon, was more than excited when he got word of this article and was willing to help further explain chef knives, this time focusing on the cost rather than individual knives. "Mainly I want people to know we can sell them a professional quality chef's knife from $39.99 up to $2499.99! We have some very good holiday specials on some Shun, Cangshan, and Henckels knives; for example, we have an 8 piece of the Henckels Four Star set at only $149.99! Forged and made in Germany."
In my personal and professional lives alike, I use the knives made by Cangshan Cutlery Allen mentioned, not just because they are aesthetically pleasing, but also because of the weight, feel, and type of steel. I have tested a number of different brands in the last couple years ranging from Wusthof to Shun to Global, Dalstrong, and so on, but the Cangshan knives really work for me. I have a muscular deficiency that I have been dealing with since birth, and there is no doubt it can affect my efficiency in the kitchen, even when handling a knife it can be bothersome because if the knife is too light I feel like I lack control; that being said, the Cangshan knives I use, the TN-1 series specifically, have a weight (11.4 oz) that works perfectly for me, and the shape of the handle conforms into my hand, so given both aspects I feel like I have more control. Unlike Zwilling, Wusthof, and Messermeister (German Steel), and the Shun (Japanese Steel), Cangshan knives are manufactured with a Swedish steel at a HRC of 58 to 61- and the Rockwell scale is a whole other aspect to consider when shopping for your own knives.
Once you understand the steel and hardness of the knives you use, it can make it easier to shop for other products in the future if you decide to branch out and try different brands. German knives like the Wusthof, Zwilling, and Messermeister are made of a softer steel (56 to 58 HRC) as opposed to the Cangshan (59 to 61 HRC) and Shun knives (60 to 62 HRC); while a softer metal sounds concerning it definitely has its benefits over the harder steel knives, and in such respect some projects require different knives. For example, you wouldn't want to try to separate the bones of a chicken with a Japanese knife because the blade is prone to chipping due to the hardness of the steel, while a German steel knife is perfect for butchering due to the softer metal and traditionally thicker blade; in the same breath, a Japanese knife is better than a German knife when it comes to precise cuts like Sushi or any projects that require a finer/clean cut. Not to say you can't use a German knife for this kind of project, but the hardness of a Japanese blade yields a sharper edge, so it would produce a better result. That is where the Cangshan knives come in with their Swedish steel; the company does have German steel products, but they plan to switch all knife lines they make to the Swedish steel as they believe it is a better steel. Swedish steel, in my experience, is like the perfect middle ground between German and Japanese steels as you can abuse it like a Zwilling knife but retains an edge almost like a Shun.
Next is to consider the manufacturing methods. Some companies have more budget oriented lines of knives that are made from stamped steel, this knife comes from a giant roll of metal sheets, they follow with a stamp of the knife and punch the sheets to create the shape of the blade, after that it is heat treated, sharpened, polished and given their handles; this does not mean they are inferior knives, they are designed to save the company and the consumer money in the long run. While that is all good and whatnot, these knifes are less sturdy as their forged or folded counterparts, and do not hold an edge as long either. A couple examples of this are Victorinox Fibrox and the Wusthof Pro lines; great knives for the price but really depend on what you would be using them for. Forged knives are a definite step up, and if properly taken care of your grand-kids will be using your knives, which is not an exaggeration seeing as I have a carbon steel chef knife that was forged in the early 1900s; forged knives are one of the oldest ways of making a knife as you forge the knife from a block of metal using extremely high heat, mechanized hammers (in the current age, of course) and so on. A few examples of forged knives are the Cangshan TN-1, Wusthof classic, and the Zwilling Four Star/ Pro lines. The last one is folded steel, this method is typically used when making knives such as the Miyabi Kaizen line which is run by Zwilling, or the Shun Classic run by- well- Shun Cutlery. This utilizes dozens of layers of steel that are heated and repeatedly folded over until the goal has been reached, and this definitely contributes to the hardness of the steel.
In the end, it does come down to what you are looking for in a chef knife considering the metal, handle material/shape, weight, length and so on; so while the typical answer is for you to go out and find knives that work best for you, it does help to know what some of your local professionals use in their kitchens.
            I would like to take a second to thank everyone who contributed to this article!
Social Media: @caileananderson (Instagram)
Cailean Anderson (Facebook)
cailean_anderson@protonmail.com
Notes: I encourage anyone with comments or concerns regarding my articles to contact me directly, thank you
Cailean has lived in Colorado his entire life, a 22 year old young man located in the heart of Colorado Springs. He has worked as a freelance writer for clients around the United States, and took the initiative to get first hand experience "behind the scenes" of the culinary industry here in Colorado; at the age of 5 he was reading college level books, and had already begun writing his own stories. In his free time he can be found exploring the state of Colorado, playing music with friends, or continuing to gather knowledge of the local culinary industry, it can be mentioned by his friends and family that he never really stops working- his mind always goes back to the same thing: stories. There are so many stories around Colorado that he wants to bring right to your fingertips.