How To Shrub Like a Denver Mixologist

Shrub cocktails are all the rage in hipster cocktail bars and underground secret door speakeasies all around Denver.  A shrub is a concentrated syrup that combines fruit, sugar, and vinegar and results in a sweet, acidic mixer that can be enjoyed on its own or used in a variety of mixed drinks. Herbs and spices are also used to created interesting flavor combinations that tantalize the tongue.  Why not impress guests at your next dinner party with a homemade shrub that's as easy and thrilling to prepare as it is to drink!
I will never forget the complex flavors that I untangled with my tongue the first time I sipped a shrub cocktail.  The depth of flavors were exhilarating!  I have played and experimented several times now which is interesting and I highly recommend this…it's ¼ science project, ¼ child's play, ¼ adult play, ¼ creative cocktail flavor fixer!  What's not to love?
Recently, shrubs have become popular cocktail ingredients as more craft bartenders are developing new recipes.  Advocates of drinking apple cider vinegar cite many health benefits, from reduced blood sugar to cancer prevention, weight loss, reduced cholesterol and improved heart health.  The Romans and Babylonians were mixing vinegar with water and sailors from the 16th-18th centuries drank shrubs to prevent scurvy!  Shrubs originated when vinegar was used in the preservation of berries and other fruits for the off-season.  They fell out of favor after refrigeration became common but have seen a resurgence in recent years of creatively crafted cocktails.  The acidity of the shrub makes it suited as an apéritif or used as an alternative to bitters in cocktails, or even as a tasty medicinal non-alcoholic beverages.
Think through your recipe
Choose your base
Many fruits and vegetables work well for creating shrubs.  We've all seen those bags of bruised and aging summer fruit for a dollar at the market, at that price what do you have to lose?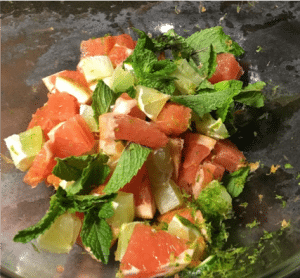 Grapefruit
Orange
Celery
Pineapple
Berries
Peaches
Choose flavorings.
Think delicate pairings that compliment your base choice.
Herbs: basil, thyme, bay, rosemary, etc.
Spices: cinnamon, vanilla, chipotle, peppercorn, grated ginger, star anise, jalapenos, etc.
Sweetener: granulated sugar, honey, turbinado, Piloncillo, etc.
Vinegar: Rice wine, red wine, apple cider, or a mixture of all of the above with a splash of balsamic
Steps to making a cold method shrub
Chop ingredients: If you use citrus, I like to zest it first and then cut off the bitter pith before chopping the fruit.  Use about a pound of fruit plus herbs and spices for this method.  This is a rough recipe with no measurements for the herbs and spices…so experiment with dried herbs vs. fresh, chopped vs. whole, etc.  A glass or nonreactive dish is best at this point.
Add your choice of sweetener: About 2 cups, and stir.
Cover: Use a clean kitchen towel draped over the top and leave to sit for one or two days at room temperature, stirring periodically.  Enjoy the natural room freshening aroma as the oils of your fruits are extracted.
Strain
At this point add your vinegar. You want a ratio of one to one roughly for the fruit, sweetener, and vinegar.   A good place to start is 1 lb. fruit, 1 cup fruit, 1 cup vinegar.  However, the more citrus you use the less vinegar you will want, so take care to add a little at a time and taste as you go and shoot for a sweet-tart flavor.  You should end up with about 3 cups of syrup.
Pour into a clean, dry glass jar with a tight lid and store in the fridge for up to 1-2 months. If fermentation, bubbles, or slimy texture forms, discontinue use.
Make a cocktail like a Denver Mixologist
Fill a glass with ice
Add shot of your favorite booze (or leave it out for an equally delicious refreshing drinking vinegar)
Top with bubbles…seltzer, sparkling wine, club soda
Add a garnish of your choice
Enjoy your tasty and healthy beverage
Heather is a creative writing wizard, travel guru, Elite Yelper, personal blogger, and Spartan Sprint race finisher!  After living most of her life in rural New York State, Heather quit her career and moved cross-country to Denver looking for a new and urban lifestyle.  Although, she has traveled to over 20 foreign countries, she had never before lived in a city and her last home was outside a Hamlet with only one traffic light.  Heather now exists as a well-adapted LODO Denverite who considers herself an area expert.  Moving can spin you around and spit you out, but Heather's journey proves the joy of waking up with a new city as your playground and opening up a box of discovery every day.  She has overcome setbacks, dealt with being an out-of-towner and urbanized into an individual who can easily maneuver living in Denver with thoughtfulness and skill.