Hemp for Fitness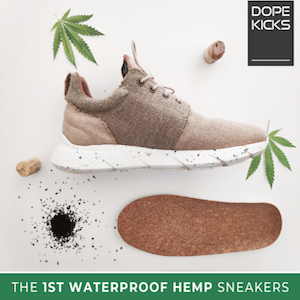 Hemp fibers are strong and can be grown without herbicides or pesticides, making it an environmentally friendly material. It also takes 3 times less water than cotton and cleans and replenishes soil. This makes natural hemp-made products better for people, animals, and the environment. More and more people are becoming conscious of how they impact the world and are voting for the world they want with their dollars. With so many consumers choosing products with more ecofriendly practices, companies are replacing plastics and other materials with hemp. There are so many ways you can incorporate hemp into your daily fitness routine, and you can now start with your shoes!
That's right, you can now get the world's very first pair of waterproof hemp sneaker from DopeKicks. They are live on Indiegogo, and the expected delivery of their shoes are October 2019! As a trail running athlete promoting cannabis as part of a healthy and active lifestyle for ourselves, animals, and the planet, I'm more than excited about getting my first pair of DopeKick hemp sneakers and hitting the trails! They have covered all bases with their environmentally friendly hemp shoes. The shoe has a sole made from recycled rubber made from soles from old shoes, and the insoles are made of natural tree growing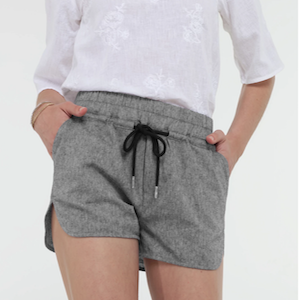 cork. As an added bonus, each pair of DopeKicks purchased helps support hemp farmers around the world!
Another brand adding more and more hemp fabrics into their line is Prana. They have hemp fiber joggers, tops, headbands, totes, and more. Whether you're practicing yoga or jogging or just want to be comfortable, they have options available for anything. Other companies leading the way with hemp activewear and more are Patagonia and Hoodlamb. Hemp for activewear is a superior material because of its lightweight and breathable feel and durability. It's a great option for those with sensitive skin as well, because it is a natural fiber grown without chemicals.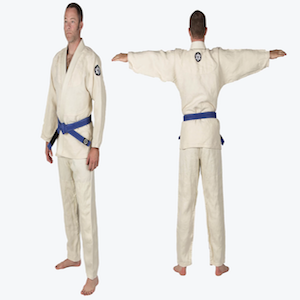 Another awesome company that specializes is hemp gear for the active person is Datsusara. They offer everything from hemp socks, to hemp backpacks, to hemp martial arts uniforms. Hemp fiber is perfect for athlete uniforms because the material naturally fights microbes like staph, and it also breathes well and is durable. For those who get active with their fur friends, they even have dog leashes made from hemp!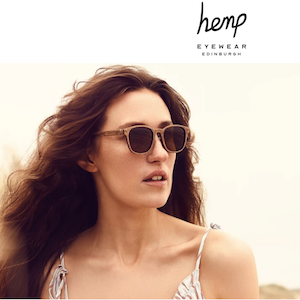 Eye protection is something to keep in mind when you're exercising outdoors. One company choosing hemp to transform everyday objects typically made from plastic into hemp made sunglasses is Hemp Eyewear. Designed with sustainability in mind, each pair is handcrafted and offers high UV protection for all outdoor activities.
Whatever you like to do, you can incorporate cannabis products into your daily fitness routine with everything from shoes, socks, activewear, sunglasses, and even a leash for your dog with items made from the amazing plant material from hemp. Each way you add hemp supports farmers and sustainability for yourself and our planet. I'm excited to see more products made from hemp for the future of our world!
Heather is the CEO and Co-Founder of 
Green House Healthy
, a health and wellness company promoting cannabis as part of a healthy and active lifestyle. Her company creates healthy experiences through educational and athletic events, teaching cannabis positive fitness and nutrition classes, and providing promotion and media services. She is a NASM Certified Personal Trainer, trail runner, writer, public speaker and epilepsy warrior. In 2017, she became the first female to complete an entire 420 Games National Tour, an athletic event series focused on raising awareness about cannabis and its consumers. Heather has placed in several races and plans to continue to trail race to raise awareness for epilepsy, healthy lifestyles and the benefits of cannabis. She has several years of experience with cannabis, including having worked on an all organic outdoor farm with 6000 plants, from seed to sale. It is her mission to share the many benefits of cannabis for people, animals and the planet!