Marijuana Now, Lately & In 2019?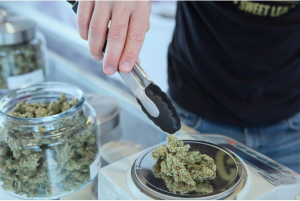 Uruguay legalizes recreational Marijuana for citizens ( 2013).

Widely available and decriminalized in Spain, the Netherlands, Germany, and South Africa.

Since 2012, 10 U.S. states (and Washington D.C.) have legalized Marijuana recreationally, and 66% of states have legalized medically, as of 1996.

Study by,

Santa Fe Institute

(2014) predicts U.S. federal legalization of Marijuana by 2021.

Marijuana sales in Colorado exceeded $1 billion, (Jan-Oct2018) according to a report by the

Colorado Department of Revenue

.

Canada legalizes recreational Marijuana (Oct2018).
Trending in the Nation
Marijuana "experiences", businesses, and product re- branding.
An attempt to educate, destigmatize, and normalize?
Rise of the Cannasseur: Pairing Marijuana with food and/or wine
CBD Spa treatments: Massages, Detox, Vitamin drips, Cryotherapy
Other: Gyms, Restaurants, Social Lounges
Products (other than flower): Marketing for specific wellness ie; sleep, energy, mood, anxiety, women, fitness products, alternative sources of plant based protein, etc.
*Flower sales this year rose 1.4% vs the 13.8% rise in both, edibles and concentrates, according to the Marijuana Enforcement Divisions 2018 Mid-Year update (Sept2018).
Alternative ways of ingestion : Patches,

Sublinguals

, Sprays and Microdosing.
Change for Colorado's Marijuana Law and Legislature ?
Newly elected Governor Jared Polis past vetoed/delayed bills –
HB18-1258 – Grainting dispensaries and retail stores temporary licensed permission for consumption on premise.
HB18-1263– Medical Marijuana use for Autism/Acute pain
(Although the bill was vetoed, an executive order was issued for research into Medical Marijuana's safety and effectiveness in children with Autism spectrum disorders).
HB18-1011– Permit out-of-state ownership stakes allowing Colorado Marijuana Businesses to raise capital while remaining competitive.
HB17-1092– Pilot program for Marijuana delivery.
If state defines "open and public" consumption-
It could help more local businesses and tourist attractions create "social opportunities". Examples: Tour buses, Ganja yoga, Concert Venues, Hotel, Bars, Clubs, etc. Final 2018 report by, Denver's Social Consumption Area Task Force .
Possible Market Monopoly?-
Big Pharma and Wall Street.
Upcoming discussions regarding Colorado Marijuana regulations and modifications take place Jan 2019,Denver,CO.