How to add Hemp to Your Thanksgiving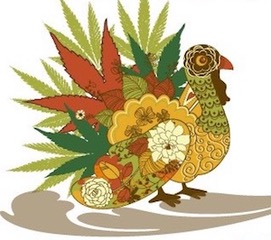 Thanksgiving is next week and there are several of us who will be shopping for foods this weekend, and all next week, leading up to the big day! We all know the classic casseroles, stuffings, and desserts, but have you considered adding hemp foods to your menu? For some, hemp foods can be new to cook with, and there isn't a lot of direction for how to add hemp to your Thanksgiving, until now!
Hemp foods are gaining popularity, and becoming much easier to find in stores.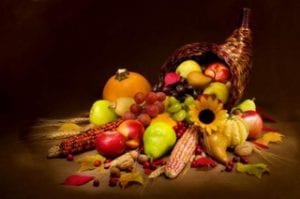 Hempsgiving was recently held in Denver, where every item on the menu featured some sort of hemp. The event was such a success, it was picked up by Denver Westword, and the pumpkin cranberry cupcakes with maple cinnamon hemp sprinkles were even featured on LiveKindly!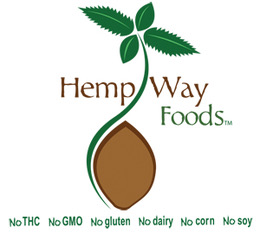 All of this momentum for hemp foods is being carried right into the grocery stores.
You can find hemp seeds, hemp flour, hemp milk, and even hemp protein powder you can add to some of your favorite Thanksgiving recipes for a nutritional powerhouse of delicious flavor. Or, if you don't feel like cooking, there are other options. Colorado's own, Hemp Way Foods, is partnered with Alfafa's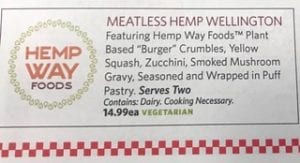 Market in Boulder, CO to offer a ready to cook Meatless Hemp Wellington! This main dish features Hemp Way Foods hemp burger crumbles with yellow squash, zucchini, and smoked mushroom gravy, wrapped in in a flaky puff pastry for only $14.99.
If you would prefer to make your own dish, here is a healthy Southern Hemp Dressing recipe, provided by Carla Boyd, the creator and owner of Hemp Way Foods. Enjoy and have a Happy Thanksgiving!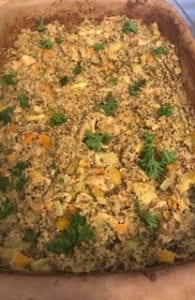 24oz Hemp Way Foods plant-based hemp burger crumbles, thawed
(1 – 16oz & 1 – 8oz package)
**½ cup hemp cream, or ½ can vegan cream of mushroom soup
3 finely chopped garlic cloves
1 small diced onion
1 small diced yellow bell pepper
1 small diced orange bell pepper
1 small diced yellow squash
1 small diced green zucchini
1/2 cup chopped green onions
1/4th cup oil or vegan butter
1 cup vegetable broth
1 1/2 cups diced oyster mushrooms
1 cup finely chopped celery
½ cup finely chopped parsley
1 tbsp rosemary
1 tsp pepper
1 tbsp sage
1 tsp thyme
Seasonings for the toasted crumbles
1 tbsp fennel seed
1 tsp coriander
1 tsp oregano
Pre-heat oven to 350 degrees.
The night before toast & season all hemp burger crumbles to optimize flavor. Sauté with 1/8th cup oil in pre-heated skillet on medium heat until desired crispiness, approximately 15-18 minutes. Add fennel, coriander, and oregano halfway through. Set aside ¾ th cup for use in the final step. Place in refrigerator for use the next day.
Sauté in large pre-heated skillet bell peppers, onions, squash, zucchini, and garlic until onions are glossy. Place in large bowl.
Add all remaining ingredients (minus the ¾ th cup hemp burger crumbles previously set aside), into the large bowl with sautéed vegetables. Mix thoroughly.
Place mixture in 10×10 pan. Bake at 350 degrees for 50-65 minutes, making sure to stir every 15 minutes.
The last 15 minutes of baking distribute the remaining toasted hemp burger crumbles on top of stuffing for the last part of baking.
** To make Hemp Cream: soak ½ cup hemp hearts in ½ cup cold water, refrigerate 1 hour before blending.




Antonio is the Co-Founder and COO of 
Green House Healthy
, a health and wellness company promoting cannabis as part of a healthy and active lifestyle. He is a NASM Certified Personal Trainer, competitive trail runner, freelance writer and speaker. His company creates healthy experiences through educational and athletic events, teaching cannabis positive fitness and nutrition classes, and providing promotion and media services. Antonio has several years of experience with cannabis, including having worked on an all organic outdoor farm with 6000 plants, from seed to sale. In 2017, he became the first male to complete an entire 420 Games National Tour, a traveling athletic event series focused on de-stigmatizing the lazy stoner stereotype. He is also an official NORML Athlete, representing NORML Athletics.