Treating ITBS with Cannabis
If you're thinking about becoming active, there are a few things to consider to avoid injuries. If you're already living an active lifestyle, you don't want an injury to slow you down. However, many athletes who participate in activities where the knee is bent repeatedly experience a common injury. Most commonly called the overuse injury, running, cycling,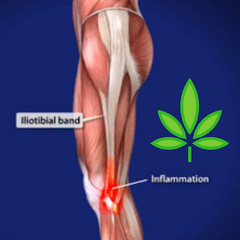 hiking and walking long distances can cause iliotibial band syndrome (ITBS) or IT band syndrome. Mostly affecting endurance athletes, the injury affects tissue that runs from the hip down past the knee. Usually, the injury manifests as inflammation outside of the knee. It can cause an intense amount of pain and discomfort and can be frustrating to overcome. Symptoms typically include pain when running or doing other activities involving the outside of the knee, lingering pain after exercising, knee tenderness and pain when the knee is bent at a 30-degree angle. The tight IT band rubs against the knee and causes severe pain.
Unfortunately, I've experienced ITBS this year as a result of my active lifestyle. Starting with 100 miles for charity challenge in March and competing in a Spartan, a 10k and a 11k, a Ragnar Trail Relay and several other races throughout the year in addition to climbing two 14ers has put a lot of miles and strain on my body and knees. I love being active and exploring, so having to take time off to rest my overused knee has been extremely difficult mentally and physically. Because this injury is so common and avoidable, here are some tips to prevent and treat reoccurring pain in the knee that could be caused by ITBS that I hope will help keep you pain free and active!
Fortunately, surgery is not typically needed, and the two main types of treatment include reducing swelling and inflammation and stretching and strengthening to prevent further injury. Consuming cannabis flower and concentrates have helped me manage the pain and inflammation, as well as eating THC and CBD edibles. Topical cannabis products are perfect for isolating specific pain areas and I use them quite often. 
The first step is to stop activity that causes pain. Taking time off can be difficult both mentally and physically but is needed in order for the body to heal. The healing process can take 6 weeks or longer. Avoiding activity that includes repeatedly bending the knee and finding ways to reduce inflammation is the first step. I've found applying ice and cannabis topicals after discomfort occurs helps treat pain and inflammation.
Another way to heal the injury and prevent future injuries is to start foam rolling if you're not already incorporating it into your training program. Using a foam roller can help target and loosen the IT Band and reduce pressure it may be causing. Regularly getting massage therapy can loosen tight muscles and provide relief as well. Adding an anti-inflammatory topical, such as a cannabis topical, during a massage may help with inflammation and recovery as well.
Strengthening the hips and other muscles will reduce stress on the knees. ITBS commonly occurs due to lack of strength training in the hip muscles, which can cause running form to break down and cause stress on the knee. Adding exercises that strengthen the hip muscles like the clam, pistol squats, hip bridge and side leg raise exercises will reduce stress on your knees.
Changing your running form can help you avoid injury. If you're unsure of your running form, have a professional look at your gait. Sometimes, adjusting your form can reduce stress and avoid injury. If you're overstraining or taking too large of steps, try to focus on reducing your stride. Also, consider where you are running. If you're running on a hard surface, downhill, or an uneven surface this could add stress to your body.
Don't forget about your shoes. If you're training with worn out shoes with a lot of mileage, this could cause your foot to land in awkward positions causing stress and alignment issues. Make sure to keep ankle and arch support in mind when you're active in order to keep your gait safely in check.
Now that my race season is over this year, I'm going to focus my energy on strengthening my body and recovering from this injury, both physically and mentally. I'll continue to include cannabis as part of my training and recovery regimen to help with pain and inflammation and help me mentally focus during training and recovery sessions.
Heather is the CEO and Co-Founder of 
Green House Healthy
, a health and wellness company promoting cannabis as part of a healthy and active lifestyle. Her company creates healthy experiences through educational and athletic events, teaching cannabis positive fitness and nutrition classes, and providing promotion and media services. She is a NASM Certified Personal Trainer, trail runner, writer, public speaker and epilepsy warrior. In 2017, she became the first female to complete an entire 420 Games National Tour, an athletic event series focused on raising awareness about cannabis and its consumers. Heather has placed in several races and plans to continue to trail race to raise awareness for epilepsy, healthy lifestyles and the benefits of cannabis. She has several years of experience with cannabis, including having worked on an all organic outdoor farm with 6000 plants, from seed to sale. It is her mission to share the many benefits of cannabis for people, animals and the planet!