Get Your Yoga On: 6 Budgeting Tips For An Aspen Yoga-Nature Staycation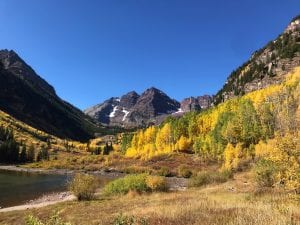 I firmly believe that nature is medicine.
There is nothing more rejuvenating than unplugging from the world for a few hours, sifting through trees and allowing silence to be your personal tour guide. What is now commonly referred to as forest bathing, the act of immersing yourself in nature while simultaneously being present to your surroundings, can be a moving meditation in and of itself, much like yoga.
In fact, both practices strongly correlate with one another. Practicing yoga or meditating out in dense wilderness reaps positive therapeutic benefits. Imagine hiking through the mountains (even your local park) to a clearing, setting up your mat, and going through a few rounds of Sun Salutations. Or, finding a comfortable seat to close your eyes and focus on your breath and inhaling fresh scents of soil, leaves, and pine (phytoncides). You just might notice an overwhelming sense of calm takeover your body…maybe even your mind.
I bring up these specific points for a reason. A few days back, I visited Colorado's majestic Maroon Bells for the first time. Autumn being my favorite season, I managed to set aside time to recharge amongst the gold foliage. The trip was absolutely worthwhile. There are simply not enough words to describe the breathtaking scenery–literally–surrounding me. It was surreal. Standing at the base of the knife-edge, bell-shaped peaks, breathing in fresh highland air, really justified why these are the most photographed mountains of my home state.
I finalized my excursion with a mountaintop yoga class. In the end not only did I leave feeling refreshed, but now that I'm back home I'm finding myself more productive in work. I have both yoga and nature to thank for that.
If you are looking to escape to the mountains for a couple days of relaxation before the weather completely shuts off for the winter season, I highly recommend a visit to this iconic place. Although located outside of Aspen—the legendarily expensive ski town—you can still be able to visit and play around the area without breaking bank. That certainly was the case for me—don't get discouraged just yet.
Seek out your own nature-and-yoga "staycation" in the Aspen area with these budgeting hints: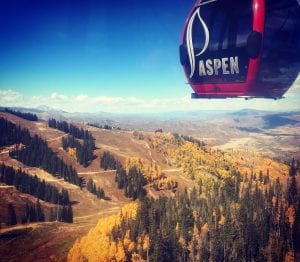 CAMP OR BOOK AN AIRBNB
Avoid the high costs of paying for lodging in Aspen for a couple of nights by camping in one of the many surrounding camp areas. Most nearby campgrounds average a $15 entrance fee; compare that to spending roughly $150+ per night in an upscale Aspen hotel. Plus, if it's your intention to camp right near the Maroon Bells, I recommend staying at the West Maroon Portal campground.
For those of you that don't have the necessary camping equipment, or are more "indoorsy" by default, your best bet is Airbnb. The cost is relative, and it depends largely on location (alongside a few other factors). On this particular trip, I went with this route. I scored staying in a cozy little home roughly 11 miles (20 minutes) outside of Aspen, for only $30 per night (two nights total). It's a little more expensive than camping, yet not even close to surpassing most Aspen lodging costs. In fact, if driving to Aspen each day is not of major concern, the nearby towns of Snowmass and Carbondale are way cheaper (and equally as beautiful) to stay in during the off season.
CARPOOL
Off-the-beaten-path adventures are always more fun with friends. Plus, by carpooling not only do you leave a cleaner environmental footprint, you can easily split costs on everything.
BRING YOUR OWN FOOD
Aspen is world-renowned for its fine dining and lively food culture. However, you can save so much more on other activities in the long run by cutting out the $40 steak frites lunch and $20 glass of wine altogether. Instead, buy your groceries ahead of time and bring plenty of healthy, energizing snacks to sustain you throughout the day. A protein bar and orange did me well for a few hours hiking around the Bells.
If you intend to camp, it's likely you'll also be cooking. Stop by Aspen's City Market to pick up any necessary provisions for the journey ahead. It's usually the case that food will make up the bulk of the cost when visiting Aspen for a couple days; better to spend $60 on cooking your own rather than the same amount for a single meal at an expensive après ski restaurant.
Plan on staying in an Airbnb? Check with your desired host ahead of time to see if they'll let you use their kitchen during your stay to prepare meals. Or, depending upon the person, it is sometimes the case that the host will provide and make food for you; usually breakfast. But do your research ahead of time before booking!
TAKE ADVANTAGE OF ASPEN'S FREE 2-HOUR PARKING SPACES
They are usually located on the periphery of town, but not too far away from the downtown area. Once 6 pm hits, the time constraint for these spots is lifted, allowing you to play around Aspen for longer periods without having to constantly move your car.
RIDE THE BUS TO THE MAROON BELLS
If you decide on a daytrip to the Maroon Bells, it's best to visit them during the middle of the week when there are fewer people. On top of that, access to parking at the base of the hiking trail is very limited, as spots often fill up quickly in the early morning hours. I cannot emphasize enough just how popular this destination is, therefore I highly recommend taking advantage of Aspen's bus system.
From Aspen, you can hop on the Castle/Maroon bus from Rubey Park to the Aspen Highlands Village. It's important to note that once you reach the village shopping center, you'll need to purchase a separate ticket for the bus tour up to the Maroon Bells ($8 round-trip). Might seem like a hassle, but at least it will save you the fee to leave your car at the Highlands parking center (that, of course, is up to you to decide).
If you end up lodging outside of Aspen and would still like to avoid parking costs at Highlands ($10 for three hours, $25 for a full day) to catch the Maroon Bells bus, the Buttermilk Ski Area parking lot offers overflow parking for only $6 per day and provides free RFTA bus services to the Highlands Village. Not bad!
 Considering there are far more expensive activities to partake in and around Aspen (think $150 for a daylong ski ticket, or $295 for a single 30-minute paragliding experience), it's my personal opinion that this particular activity is incredibly reasonable, and one of the most scenic.
Pro Tip: Visit the Bells early in the morning (8am) for the best photo opportunities. I guarantee you won't regret it!
 $10 MOUNAINTOP YOGA
 Hosted by Aspen Shakti Yoga Studio, this unique event takes place at the top of Aspen Mountain. If you're like me and want to finish off your mini excursion with a little yoga, I highly recommend this $10, all-levels drop-in class (that or take your mat up to the Bells and practice alongside the shore of Crater Lake; equally amazing).
Either hike for free (allow yourself at least 2 hours before class) or take the Silver Queen Gondola ($26 round-trip) up to the top of the mountain for an hour-long yoga session. The stunning scenery of the surrounding mountain range really adds to the experience, and being out in nature cultivates your practice on a whole new level.
Namaste, and happy traveling!
Amanda Cruz is a freelance writer, editor and certified yoga teacher. Holding a B.A. in Political Science from the University of Colorado at Boulder, her passion for the written word runs deep. Starting out as a prelaw student, her direction eventually unfolded into the realms of health and wellness, through the art of storytelling. An avid lover of adventure, Amanda makes nature her playground, and movement her medicine. Now, as a fulltime freelancer, you'll find her behind a keyboard crafting content in topics ranging from meditation to circadian rhythm–inquiring and pondering along the way. As an editor, she enjoys adapting to multiple projects and mediums. Need literary guidance on a novel, or thesis development for an academic article?
Challenge accepted!
When not glued to her desk or locked to a book, Amanda will be cutting through slopes on her snowboard or traversing up mountains. To view her latest written pieces, visit her at
https://www.tuneus.com
, where she is a contributing writer and editor for an up-and-coming holistic health organization.