Warm Weather Good News for Fall Colors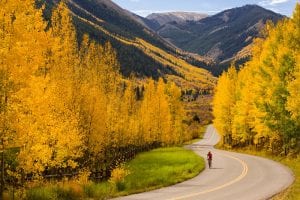 Leaf changing season is approaching quickly, with colors changing in northern Colorado around September 15. Entomologist Dan West says to expect a particularly beautiful season due to warm weather in late summer and wet conditions throughout the summer.
"This year because of so much precipitation we really have still seen them still green," West explained. "They've had perfect growing conditions all summer long. It was always wet, but they look like they've had adequate growth and it's going to be a good show this season."
The warm days and cool evenings that we have been experiencing are the perfect conditions for beautiful fall colors, as the cool temperatures at night trap the sugars in the trees that cause vibrant yellows, oranges, and reds.
CDOT estimated there were delays up to an hour and a half for people driving up to the mountains on the weekends in September 2018, and this year looks like it will be no different.
Kaylee was raised (but not *technically* born) in Colorado. She graduated from Regis University with a bachelor of arts in English. During her time at Regis she worked as a teaching assistant in a freshman classroom setting and in the writing center helping students on a variety of topics. While there, she discovered Cura Personalis, or care for the entire person, leading to her love of feminism and desire for equal rights for all. Kaylee spends her time reading, writing, and debating.