5 Tips to Save Money Going to a Music Festival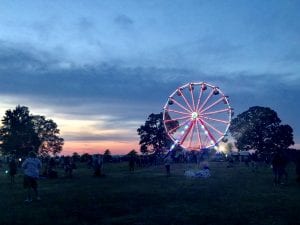 It's summer, which means it's festival season!!! As in, music festivals! I personally love festival season and went to Electric Forest last year and Bonnaroo this year. Festivals can get pricey, but I was amazed by how much I could save with small money-saving hacks. Yes, you can go to a festival too and not be freaking out about money too! (Trust me, I know. Currently on a barista salary…haha) Look no further for tips to make festival season fun and affordable.
Bring Your Own Food.
This seems like a fairly simple and obvious idea, but planning out what food you bring is A LIFE SAVER. Plan meals you can bring that don't need to be cooked that will decently fill you up and contain protein. I personally rely on a loaf of bread, a jar of peanut butter and a bottle of honey. These serve as my main meals, while I also bring a bunch of snacks such as veggie straws, trail mix, protein bars, etc. Just make sure to bring some protein to keep you full and give you power for the several days you'll be out! Also, a snack I love for desert—Trader Joe's Cinnamon Roll Bread—is low-key filling and delish! This will save you so much from buying the way overpriced food offered. If you're feeling fancy, bring a camping stove and food to go with that!
Bring Lots of Caffeine!
This ties in with the first point, but really make sure to cover your bases with these important beverages too! Coffee is necessary; you will be TIRED AF. I find bottled coffee works (especially if you have a cooler, or some type of instant iced coffee. Also, a few cans of energy drinks are your friend for later in the day before you head out for a night of shows. Another handy item to have is one of those 'water enhancer' liquids that you can squirt into your water, such as Mio Energy. These have caffeine, B vitamins and it's such a small little bottle that it's very convenient to bring along. Honestly, you could skip the iced coffee and energy drinks and just bring a bottle or two of these (around $3-4 each), you'd be surprised how useful they are!
Travel in a Group.
Another seemingly obvious tip, but if you travel in a bigger group you can split everything many ways! You can split gas on the way there, you can split a tent, you can split the car camping pass usually required to camp—also, who doesn't love taking group pics?
Buy an off-beat souvenir, if you decide.
Instead of buying a $40 festival t-shirt that you will never wear, check out the other booths at the festival! Many festivals have booths dedicated to a bunch of artists with a wide variety of items such as bandanas, shirts, jewelry, posters, etc. Find a cute little something that you like at one of those stands and save a bunch of money and still be able to take home a nice souvenir. At Electric Forest I bought a bandana that I absolutely love and use as a decoration on my wall when I'm not using it. I really adore it and reminds me of the fun memories at the festival versus a $40 electric forest tee at the bottom of my closet I would've barely worn.
Repurpose outfits you already have.
Whenever a festival rolls up, I know we all get hyped and have the urge to buy new outfits for the occasion. However, have you thought about repurposing and combining outfits you already have? Maybe add a bandana to those overalls or a cute bralette with a pair of shorts. Add in a hat or a scarf or fun sunglasses. There are so many fun combos you can make that will still feel new and exciting with pieces you already have. Time to get creative and have a blast!
Rea McLaughlin is an enthusiastic soul that loves life from Colorado. She loves the Colorado sunshine and enjoys partaking in it often by going climbing, hiking or camping. She attained her BFA in Film Studies from the University of Colorado at Boulder where she fell in love with storytelling. After living in NYC for a year to pursue film, Rea is happily back in Colorado enjoying the mountains and sunshine. One of her favorite themes to explore in her art and writing is the human spirit and human connection. When she's not climbing or creating, Rea loves traveling to music festivals and going to Red Rocks shows. She might ask you for your birth time to check out your astrology chart too! (She is a Leo Sun, Scorpio Moon, Aquarius Rising). She loves to enjoy life and squeeze the very best of out of it.