A Chance to Visit Rainbow Falls this Winter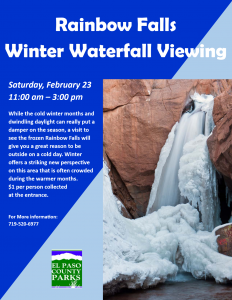 Rainbow Falls
Short hike (0.3 m)

Easily accessible

Scenic

Dog Friendly
Usually closed off during the winter months, the beautiful and extremely popular Rainbow Falls trail, located near Manitou Springs will reopen for a special moment next month. El Paso County Parks and Rec has arranged a must-see opportunity for the public to view the waterfall from a very different perspective. This event is scheduled to take place (weather permitting!) on Saturday, February 23rd, from 11 am to 3 pm.
February 23rd, 2019  11am – 3pm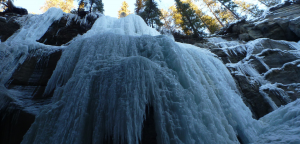 Rainbow Falls Winter Viewing by El Paso County Parks
Serpentine Dr, Manitou Springs, CO 80829
$1 per person to be collected at the entrance.
No registration is required.
NOTE:
Rainbow Falls is not due to officially reopen through the summer until sometime April 2019.  
Event and hours scheduled are weather contingent. Visit elpasoco.com for additional information, dates, and trails. Have a question? Call (719) 520-6977
Samantha J. Evans better known as Sam, regularly prefers not to limit her identity. She credits her favorite freedom: the ability to create, and the physical realization of many others to staying true to herself along life's journey. Samantha's unwillingness to be contained has also contributed to her exceptionally curious and unconventional resume. This includes experiences like field interviewing in support of research and development projects, photography, and a brief, but very enlightening year at a local gun club. Although the idea of diversity and exploration has been a reoccurring theme in her life, she has made Colorado her permanent place of residence, and has been enjoying the lifestyle ever since. Peering into aspects not initially visible about Samantha, offer a powerful combination of quirks; only to be described as profound complexities, that reinforce her passion for "peopling" and in some cases altruistic behavior. Samantha ultimately aspires to create the form that will bond all her multifaceted inspirations to help the World become more excellent.