"Super Blood Wolf" Lunar Eclipse 2019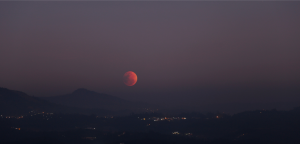 Next Sunday, January 20th, 2019, the Sun, the Moon, and the Earth will cross paths for the last time this decade. With such a unique nickname it's no wonder this particular event is receiving so much attention. Below are a few explanations to help better understand the excitement around the Super Blood Wolf Moon eclipse.
A

total lunar eclipse

officially called a syzygy [ siz-eh-gee], is an almost perfect alignment of 3 celestial bodies and is only possible during a full moon. 

It is literally a Sun, Moon, Earth Sandwich. Earth is in the middle.
A

"Wolf" moon

,"Old" moon: names given to January's full moons by indigenous Native American tribes in colonial times.

A

Supermoon

appears larger and brighter than other phases of the moon because of its proximity to the earth. Supermoon= Closer/Larger likewise, Micromoon= Further/Smaller.

A

"Blood" moon

is a total lunar eclipse in the middle of a Supermoon which produces a reddish-orange appearance during peak of it's alignment.
The total lunar eclipse this weekend will last about 5 hours from beginning to end. However, those planning to view this phenomena without a telescope may be more interested in when the moon appears to glow and change in color. This will occur about half way through the phases of the total lunar eclipse, at approx. 9:40 pm – 10:40 pm. Due to the positioning of the moon in relativity to the Earth it will also appear to be larger and about %16 brighter, Sunday night.
Unlike a solar eclipse, a lunar eclipse is not considered harmful to view with the naked eye. Photographers are likely granted a nice advantage with the eclipse reducing the amount of natural light or "noise" pollution in the night sky. This reduction in light will also make shooting or falling stars easier to spot. Spectators pulling an all nighter have the opportunity to witness another cool planetary alignment called a conjunction. This particular conjunction features the planets, Venus and Jupiter side by side approaching sunrise.
3 places in COS to view and celebrate January 2019's celestial happenings:
Bonfire and BBQ with Colorado Wolf and Wildlife Center JAN 19th, 4 p.m.- 6 p.m. Homemade chili w vegetarian options available. Drinks and seasonal treats. Reservation and Pre-Pay required. All ages. Questions? Call (719) 687-9742
Total Lunar Eclipse viewing with Colorado Springs Astronomical Society @ Garden of the Gods visitor center. JAN 20th, 7 p.m. – 11 p.m. RV/Bus parking lot. Learn more about lunar eclipses and moon phases. If you do not already own any equipment this event offers the opportunity to view the eclipse through binoculars and/or telescopes. Free, no reservations required. All ages. Questions? Call (719) 219-0104 or e-mail programs@gardenofgods.com
"Eclipses and Phases of the Moon" Film and Lunar Eclipse viewing JAN 20th, 6:30 p.m. – 10:30 p.m. at U.S. Air Force Academy planetarium.Lead by the Academy's observatory director, Dr. Devin Della-Rose. After an educational review visitors will be lead outside to observe the eclipse with bare eyes and telescopes. Free, no reservations required. Enter USAFA through North Gate, meet at parking lot next to the planetarium at 6:30 p.m. All guests and visitors must leave USAFA by 10:30 p.m. Questions? Call (719) 333-2025 or e-mail pa.comrel2@usafa.edu
Samantha J. Evans better known as Sam, regularly prefers not to limit her identity. She credits her favorite freedom: the ability to create, and the physical realization of many others to staying true to herself along life's journey. Samantha's unwillingness to be contained has also contributed to her exceptionally curious and unconventional resume. This includes experiences like field interviewing in support of research and development projects, photography, and a brief, but very enlightening year at a local gun club. Although the idea of diversity and exploration has been a reoccurring theme in her life, she has made Colorado her permanent place of residence, and has been enjoying the lifestyle ever since. Peering into aspects not initially visible about Samantha, offer a powerful combination of quirks; only to be described as profound complexities, that reinforce her passion for "peopling" and in some cases altruistic behavior. Samantha ultimately aspires to create the form that will bond all her multifaceted inspirations to help the World become more excellent.