The Denver Milk Market in the Dairy Block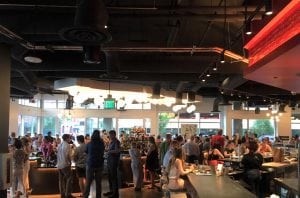 It's my first look at Milk Market, a huge food hall with seating for 350 or more.  I can hear the alluring buzz even before the modernized liquor-friendly school yard comes into view. It's a weeknight around 7pm and the place has a good buzz.  I am alone, without a friend, and it's a bit like a school yard without a friend…but I quickly become enamored with the attractive and stimulating sights and tastes.
What is the Denver Milk Market?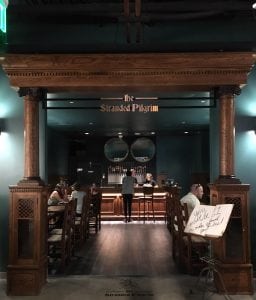 The Denver Milk Market is a food hall by Denver Chef Frank Bonnano featuring 16 restaurants and bars.  It is part of the Dairy Block…a micro-district destination in lower downtown Denver for shopping, dining, hospitality and local business…a school-yard for high quality, hyper-focused craft products and services, including exceptional merchandise, dining options, craft cocktails, premium coffee and more.  Parts of the Dairy Block are still under construction.
At Milk Market a future installation of the high-tech point-of-sale system designed by Toast will makes it easy to shop,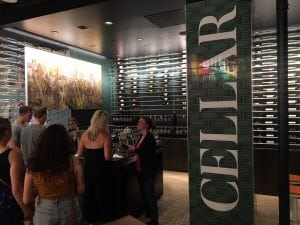 eat and drink at various positions and allows customers to order and pay for food online from any of the vendors and then pick up everything at once.  Concierges will track purchases electronically and gather food into one order for pick-up or possibly even delivery.   Patrons can also order at any of the counters or from servers who circulate around seating areas, creating a kind of hybrid fast-casual/full service to satisfy the individual needs and preferences of every guest.  You can also shop for meats, cheeses, pantry items and fresh-made ingredients like pastas and sauces to make a meal at home.
The Offerings of the Denver Milk Market
Albina By The Sea: Seafood, crab cakes, and lobster bisque
MoPoke: Hawaiian poke
Cellar: tiny little jewel box room filled with Wine
Ruth's Butchery: Burgers and hot sandwiches
Green Huntsman: Salads
Mano Pastaria: Italian fresh pasta
Fem: Crepes
Cornicello: Fresh Spun Ice Cream and Gelato
Lou's: Fried chicken
Stranded Pilgrim: Tasting room serving up local beers
Engine Room: Pizza by the slice
Morning Jones: Pastries, crumb cake, & nitrogenated lattes on tap
Moo Bar: Main cocktail bar with center chandelier
S&G: Sandwiches, house cured 'nduja, finnocetta, bresaola, llonza and mortadella
Bao Chica Bao: Asian street foodn
Heather is a creative writing wizard, travel guru, Elite Yelper, personal blogger, and Spartan Sprint race finisher!  After living most of her life in rural New York State, Heather quit her career and moved cross-country to Denver looking for a new and urban lifestyle.  Although, she has traveled to over 20 foreign countries, she had never before lived in a city and her last home was outside a Hamlet with only one traffic light.  Heather now exists as a well-adapted LODO Denverite who considers herself an area expert.  Moving can spin you around and spit you out, but Heather's journey proves the joy of waking up with a new city as your playground and opening up a box of discovery every day.  She has overcome setbacks, dealt with being an out-of-towner and urbanized into an individual who can easily maneuver living in Denver with thoughtfulness and skill.