Find Home at Lucile's Creole Café -A little café, with a big heart.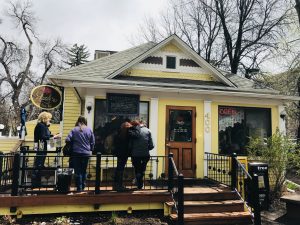 With all of the new restaurants popping up in Fort Collins, especially in the Old Town area, sometimes it is nice to return to an old favorite. Lucile's Creole Café has held its popularity as a breakfast and lunch spot in Fort Collins and other Northern Colorado locations. Passing by, you may mistake it for a small house. It has a bright yellow exterior, a fenced in yard, and a homey feel.
With the restaurant being both small and busy, a wait is always to be expected on the weekends. An average wait time at Lucile's, that I have grown to accept, is around 30-45 minutes. The food is worth the wait. With limited space inside the restaurant, I would suggest dressing weather appropriate in case you need to wait outside. Lucile's menu is based around a Cajun theme featuring dishes with red beans, poached eggs, grits, creole spice, and more.
For this visit we sat at the bar. I enjoyed sitting there, because I finally saw the hustle and bustle of the Lucile's crew.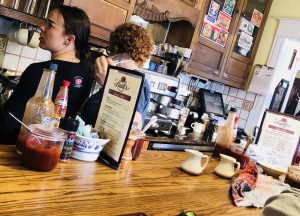 The staff at Lucile's is worth a mention. They maintain a calm demeanor, keep up with the fast pace environment, and are extremely nice and helpful.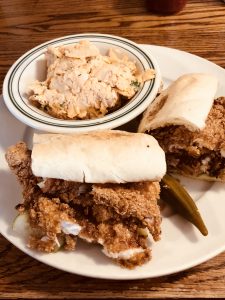 Every table-top of Lucile's holds homemade jams, homemade ketchup, and homemade hot sauce. Even the silverware is wrapped with sewn pieces of aged fabric. The domestic feel of the restaurant reminds me of being at my grandmother's house.
Lucile's keeps up the familial air with their comfort food. I started with a cup of hot chocolate to warm up from waiting outside. It was sweet and smooth and came with whipped cream and chocolate shreds. I ordered the Catfish Po Boy, served with a side option of potato salad or rice and beans. The Po Boy was served on a soft French roll. The catfish was nicely fried with crunchy breading but maintained the tenderness of the fish. I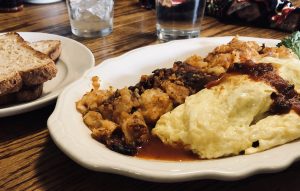 decided on the potato salad as my side, but was underwhelmed with the plain flavor. It has been the only time I have been disappointed with something I ordered at Lucile's. Chavez had the Creole Omelet. It came with a creole sauce, sausage, ham, and a side of fried potatoes. The potatoes held a nice crunch, and the creole sauce added a pleasant sweetness in the dish.
We left the restaurant full and satisfied. As I paid my check I looked over the homemade jams for sale, with my eye on the apple butter. I decided to wait until my next stop in to purchase it. I knew it wouldn't be long, because one always finds their way home.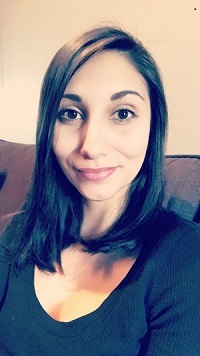 Marisa Olivas is a writer living in Fort Collins, Colorado. Marisa enjoys traveling, trying new foods, reading, writing poetry, and a good cup of coffee. Marisa's travels have taken her to various places in the United States, European countries, and a small Western African country called The Gambia. These travels have given Marisa invaluable experiences and created an opened mind to the world around her. She attended Colorado State University and obtained a degree in Journalism and Media Communications and Political Science. She hopes in the future to use both areas of studies to help tell people's stories through humanitarian reporting and shed light on injustices in our society.