Have A Heart With Goat Patch!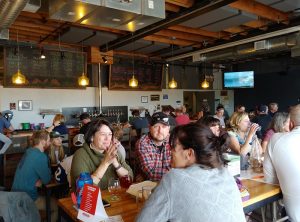 For any who are not aware, Goat Patch Brewing Company hosts special events every Tuesday nights for local businesses. This last Tuesday it was the American Hearts Association; Sherri Norwood, one of the Co-Chairs of the American Heart Association, elaborated that their Association hosts 3 major events throughout the year: the Heart Ball in February, Cycle Nation in May, and Go Red For Women in September. The American Heart Association is working hard to help raise awareness of how to cut down the chances of a heart attack or stroke (the additional focus on brain issues started this last year) through preventative measures outside the factor of genetics; everyone that had put this event together all shared similar motivators in why they keep this going: they had someone in their family who struggled with heart issues or something that was afflicting their brain. The other is that they wanted to treat to a positive outcome, not just treat the problem. They [Sarah Norwood, Ryan Gambino, Sherri Harris, and Monique Lewis] all want to see the smiles on the faces of those they interact with. Even in tough times, they want to be there regardless to help their patients through. Enter Goat Patch, a local brewery hellbent on giving back to their community in any way they can.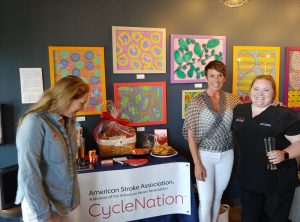 Sarah Norwood, who has worked at Penrose for a number of years, is very excited to be a part of the American Heart Association, which was apparent due to the smile she donned all evening long. Sarah was motivated to help people in life after witnessing her own grandfather struggle with health issues. She took the time to mention the goal for the American Heart Association was to raise $50,000. They have already raised $35,000 of their goal, which is going to benefit education for the community and help with prevention, not to mention just the general awareness of the problems at hand.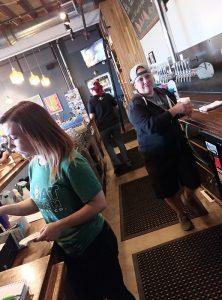 "It is important to make a difference professionally and in the community," stated Ryan Gambino, who has been helping the American Heart for 2 years. She wants to see the awareness in the community continue to incline, and decrease the statistics of individuals afflicted by these issues; her motivators being that she wants to see people recover and see them celebrate their success. Sherri Harris has been the Program Coordinator with American Heart for a short time, and has shared the same goals and motivators as all of her co-workers, along with Monique Lewis, the Exec Director, which is an incredible feat. It is not a goal the Association preaches upon without believing in. These individuals believe in their work all the way down to their bones, their heart, hooked deep into their own souls. So, why not host an event with a local brewery built based on their community delivering in exceptional products and customer service?
Robert Mitchell, a member of the Goat Patch family who has been around for over a year now, stated the community nights are pivotal because,
"While it does benefit us with a full house on a Tuesday night, these are a pillar to the community because it helps us and them establish connections where it matters."
Just like everyone else in the Goat Patch family, Robert was attracted to the Brewery due to the great beer, the family-like staff dynamic, and the customer service Goat Patch provides.
Tasha Martinez, a veteran member of Goat Patch, was attracted by the popular answers, but also took the time to state Goat Patch really owns up to their place in the community be it through the beer and their customer interactions.
"We are set apart from other businesses because we do our best, the most, for our local community. We wouldn't be here if it wasn't for them, and that goes back to our ABC core values: Adventure, Balance, and Community." – Tasha Martinez.
"We have to give back wherever we can every Tuesday night, and we play our part considering this is a neighborhood focused area. It is all about the community," Averee Davis commented when talking about their event nights.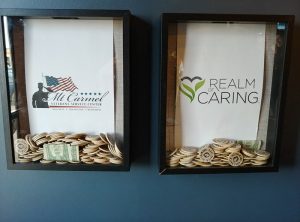 If any of my readers stop into Goat Patch in the coming days, be sure to take a look at their It Takes A Tribe red ale. Not only is it an exceptional red ale, but a portion of your purchase goes to one of two associations Goat Patch is donating to. This year Goat Patch is focusing on Realm of Caring and Mt Carmel Veteran Service Center; when you purchase your ale, you are also given a wooden coin and pointed toward two shadow boxes posted to the wall near one of the exits. Goat Patch focuses on two associations per year to develop donations for. They officially donate to these associations at the Goat Patch Anniversary Event (July 27th 2019). So the next time you are in Goat Patch, definitely check out the It Takes A Tribe red ale, lend a hand where you can, or support Goat Patch in some of their limited run brews as they do not appear to be running out of new and exciting ideas any time soon.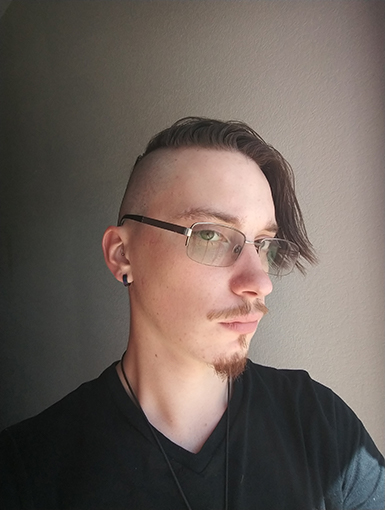 Cailean has lived in Colorado his entire life, a 22 year old young man located in the heart of Colorado Springs. He has worked as a freelance writer for clients around the United States, and took the initiative to get first hand experience "behind the scenes" of the culinary industry here in Colorado; at the age of 5 he was reading college level books, and had already begun writing his own stories. In his free time he can be found exploring the state of Colorado, playing music with friends, or continuing to gather knowledge of the local culinary industry, it can be mentioned by his friends and family that he never really stops working- his mind always goes back to the same thing: stories. There are so many stories around Colorado that he wants to bring right to your fingertips.